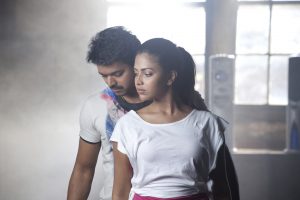 Tickets were being sold like hot cakes since Monday for Vijay-starrer Tamil action-drama "Thalaivaa", but on Wednesday afternoon most theatres, including multiplexes, stopped bookings following threat calls from political activists.
Directed by A.L. Vijay, "Thalaivaa", which means leader in Tamil, also features Amala Paul, Ragini Nandwani and Abhimanyu Singh in important roles.
Reportedly, members of a political activist group, who claim "Thalaivaa" to be a political film, have warned theatres not to screen the film.
"The tickets for most shows for Friday and Saturday were sold out in most theatres in the city, but since afternoon all theatres have blocked advance booking for 'Thalaivaa' because they are being threatened by political activists," a source from the industry said.
"According to these activists, the film is taking a political dig at some sensible issues, which has not gone down well with these members," he added.
Refuting rumours that "Thalaivaa" is a political film, actor Vijay said the film would release as scheduled on Friday.
"It's a complete family entertainer with all the necessary ingredients including romance, action and comedy. This is not a political film as some miscreants claim. It's not against any political group or individuals," Vijay said in a statement.
"The film is releasing on Aug 9 amidst huge expectations. Few theatres have blocked the bookings temporarily. The producers are now in the middle of a trade related meeting and are expected to sort out the issue by today evening," he added.