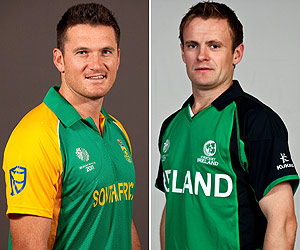 KOLKATA: Their tails up after the nail-biting victory against India, South Africa would be eyeing to top group B as they clash with Ireland here Tuesday.
Injuries to its key players and Ireland's promising displays in the tournament could make it far from a cakewalk for Graeme Smith's side as the World Cup returns to the Eden Gardens.
Star batsman AB de Villiers was uncertain as he was down with a left thigh strain while it seemed unlikely that the team management would risk leggie Imran Tahir – nursing a fractured left thumb – especially with the team slated to wrap up their group B engagements in what could prove to be a trickier tie opposite Bangladesh in Dhaka March 19.
On De Villiers, the team spokesperson said: "It is a grade 1 strain to the left quad muscle. The medical team are taking it one day at a time, he has not been ruled out."
On six points from four games, South Africa stand a good chance to finish as group leaders if they win both their matches, and that could enable them to take on the side finishing fourth from the other group in the quarter-finals.
However, South African coach Corrie Van Zyl admitted that Ireland would be tough opponents.
Corrie said he was impressed with the way the Irish have been playing in the tournament.
"Not just fielding, the way they have played this tournament, they have impressed not just us, but everybody. We have got a tough opponent tomorrow," he said.
For South Africa, who have lost only five of their last 22 ODIs since February last year, the indifferent batting form of Smith was a worrying factory, but the coach said: "The good thing for me is that Graeme's record shows that the big one is round the corner."
Ireland, on two points from four games, also have their fitness problems, with allrounder Andre Botha suffering from a stomach bug.
"We will wait and see how he fares in the morning. He's the only player who's really at the moment," said Ireland skipper William Porterfield.
Porterfield said his side would play an attacking game as they have nothing to lose.
"We don't have anything to lose tomorrow. We've just got to go out there and play with freedom and attack in the same way that we have attacked in every other game.
"If we go out and do that and leave everything on the pitch, I'll be happy," Porterfield said at the pre-match media meet at the Eden Gardens, a historic ground which hosted the 1987 World Cup and a semi-final in the 1996 edition of the mega event.
Head to head, the two teams have met twice in ODI cricket with South Africa winning both the matches. Their only meeting in the World Cup came at Providence in 2007 where South Africa won by seven wickets via the Duckworth-Lewis method.