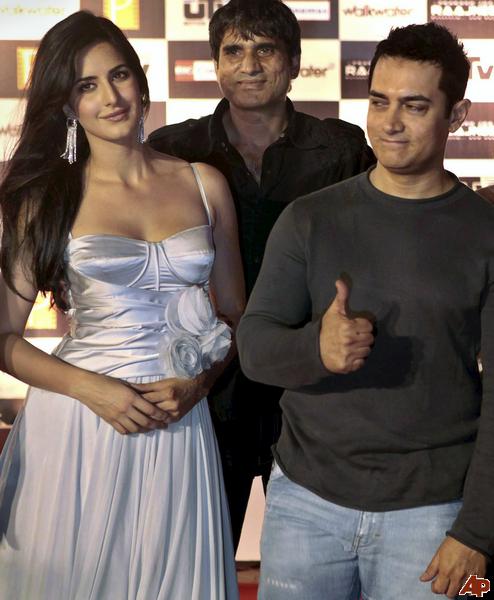 Katrina Kaif, who has recently been in the limelight for more reasons than one, has made it to the headlines yet again. However, this time around, it is due to her dedication to work and not because of her alleged beau Ranbir Kapoor. As per reports, Kaif had to recently shoot for her upcoming 'Dhoom 3' despite being down with viral fever. Reason? Her co-star Aamir Khan had already allotted his dates for the same.
According to what an insider has said to a tabloid, "Katrina's been down with viral fever. She was resting at home as she was feeling weak. But because of Aamir she is now back for the shoot schedule."
When it comes to her profession, Katrina has, in the past too, proven that she is a thorough professional and doesn't let anything come between her and her work. The fact that the gorgeous lass had decided to work with her ex-flame Salman Khan in 'Ek Tha Tiger' despite issues with the latter is a glowing reminder of the same. And as far as Aamir is concerned, it is not for nothing that he has been decorated with the tag of 'The Perfectionist'. And it is that same streak in him that led to Kat ending up shooting for 'Dhoom 3' regardless of her illness.
'Dhoom 3' will see the famous 'Dhoom' franchise coming to life this December. While the first had John Abraham playing a sleek thief, the second instalment had Hrithik Roshan and Aishwarya Rai teaming up. Abhishek Bachchan and Uday Chopra have been seen in both 'Dhoom' and 'Dhoom 2', and will be reprising their roles this time too. 'Dhoom 3' will see Aamir Khan and Katrina Kaif paired together for the first time.