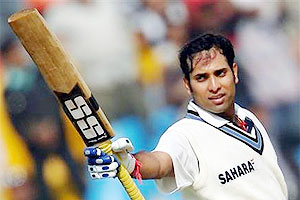 Veteran batsman VVS Laxman retained his place in the Indian Test squad for the two-match series against New Zealand, starting August 23 in Hyderabad despite his poor show in the last eight Tests in England and Australia.
Sachin Tendulkar will be back in action after his two-month break, having skipped the limited overs series in Sri Lanka recently, while young batsman Cheteshwar Pujara has predictably got the nod as replacement for the retired Rahul Dravid in the longer version.
Pacer Ishant Sharma, who has recuperated from a successful ankle surgery, is also back in the 15-member squad along with Suresh Raina who will be the reserve middle-order batsman.
This was the last meeting of the current selection committee headed by Krishnamachari Srikkanth which would be replaced at the Cricket Board's next AGM in September.
There were a lot of speculations in the past few days regarding Laxman's future, especially as the first Test was being played at his hometown in Hyderabad.
However, the 37-year-old's selection means that the talks of an impending retirement has been put to rest for the time being. But at the same time, the pressure to perform will be immense on the stylish Hyderabadi batsman as Raina will be itching to get a chance on the sub-continental shirtfronts.
The surprise pick certainly is leg-spinner Piyush Chawla, who last played for India in the 2011 World Cup and since then has been confined to the sidelines.
He didn't set the domestic stage on fire having picked only 23 wickets in seven Ranji Trophy matches for UP last season. His poor strike rate of 72 plus (12 overs for a wicket) also raises questions about whether this performance warrants a place in the squad.