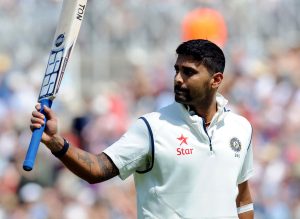 Murali Vijay backed Ravindra Jadeja to be a last-day hero as India closed in on a coveted Test win against England at Lord`s.
Both players had a day to remember on Sunday, although in opener Vijay`s case it was bittersweet as he just missed out on a place on the Lord`s honours board by making 95.
But his painstaking knock laid the foundation for India`s second innings 342, a total bolstered by a dashing eighth-wicket stand of 99 in just 100 balls between Jadeja (68) and Bhuvneshwar Kumar (52).
Left-arm spinner Jadeja then took a wicket with his first ball Sunday to have Sam Robson lbw.
At stumps, England were 105 for four — still needing a further 214 runs to reach their victory target of 319 — with both captain Alastair Cook and fellow senior batsman Ian Bell already out cheaply.
Jadeja promises to pose particular problems for England`s remaining four out of six left-handers –Gary Ballance like Cook fell tamely on Sunday — in Moeen Ali, Ben Stokes, Stuart Broad and James Anderson as there is now significant rough outside their off-stump.
"The game is really well-placed," Vijay told reporters after stumps.
"It is doing a lot for the spinner because of the foot marks and they have six left-handers so it is going to be tough for them."
The 30-year-old Vijay was on the brink of making hundreds in successive matches, following his excellent 146 in the drawn first Test of this five-match series at Trent Bridge when, after more than six hours at the crease, he fell an agonising five runs short when caught behind off James Anderson with the new ball."It is disappointing but I will take it any day if we pull off a win tomorrow (Monday)," said Vijay, now in his 24th Test.
"Jadeja played really well, carrying through his aggressive intent and obviously Bhuvneshwar was hitting the ball. They both put us in a very good position."
Vijay`s innings was a throwback by comparison but invaluable all the same given there was still some life in a seaming pitch when he walked out to bat.
"The wicket was doing a bit, behaving up and down," he said.
"On this wicket, I thought rather than play the drive I need to wait for my strength."
Vijay had had something of a stop-start Test career since making his debut back in 2008.
But he was recalled when Gautam Gambhir fell out of favour, with Vijay determined to make the most of his second chance.
"The first 10 matches I played in three years," recalled Vijay. "That says it all.
"After that I got my chance, I waited for it, and kept myself patient. When I got it, I just wanted to grab it."
Vijay and Jadeja began to turn the tide in India`s favour with a quickfire stand of 32 in 35 balls.
"When he actually came in I could feel the energy that he would do something special," said Vijay of a Jadeja innings that saw the left-hander hit nine fours in 57 balls.
"The intent was there and from ball one he was positive. At that time we needed somebody like that. I was playing the anchor role, and he was trying to get the runs.
"I just told him let`s build a 25-run partnership and take it from there," Vijay explained.
India are now on the brink of their first away win in 16 Tests, their last overseas victory coming against the West Indies in Jamaica in 2011.
And were they to go 1-0 up in the series, it would also represent only India`s second win in 17 Tests at Lord`s following their 1986 success at the `home of cricket`.
"We are all pumped up to do something special," said Vijay. "We are here to prove a point, we are here to win a game."