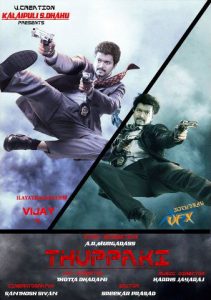 Cast : Vijay , Kagal Agarwal
Music Director : Harris Jayaraj
Camera : Santhosh Sivan
Starring : vijay, kajal agarwal,
Directed By : A R Murugadoss
Written By : A R Murugadoss
Screenplay By : A R Murugadoss
Produced By : kalipuli S.Thanu
Release Date : april 14th 2012.
Genre : action adventure
Studio : V creations
Vijay Thuppaki Tamil Movie in A. R. Murugadoss Direction
Tamil actor Vijay in Thuppaki Tamil Movie is the next expected Tamil movie of the year 2012 after the great success of Shankar's Nanban Tamil movie.
Vijay upcoming movie Thuppakki is making great expectations among the audience especially for Vijay fans. The role of Vijay in Nanban Tamil movie is a Comedy mixed sentimental role but the upcoming moving of Vijay Thuppakki is very different than Nanban story. Director of Thuppakki Tamil Movie is the popular director of koolywood A. R. Murugadoss. The combination of Illiyathalapathi Vijay and Murugadoss is going to give a hit movie of the year 2012 called Thuppaki. Thuppakki tamil movie stills remains the fire of Naalaiya Theerpu Vijay.
Thuppakki tamil movie story: It is a type of Action movie
Thuppakki Tamil Movie Heroin
One of the best bollywood actresses Kajal Aggarwal is going to pair with Vijay for the movie. Thuppaki movie release date is not yet finalized. Many popular actresses of bollywood and Kollywood was approached to do as a heroin of role Thuppakki Tamil Film, there were many rumour about heroin selection for vijay's thuppaki Filally the official conformation came from the unit that Kajal Aggarwal is doing Thuppaki heroine role.
Vijay New Movie Thuppakki Cast and Crew Details
Tamil Thuppakki movie story is an action film. The name of the movie was decided as Maalai Nerathu Mazhaithuli but according to the story line later the name was changed as Thuppakki . Now this time A. R. Murugadoss is taking the story and direction in his hand. The movie is produced by one of the famous producer of Kollywood Kaalipuli S. Thaanu. All the songs are going to hit by the composing of music director Harris Jayaraj. Budget of the movie is seventy crore and the editing part is done by A. Sreekar Prasadh.
Thuppaki Tamil Movie Audio Songs
Thuppaki Tamil movie Audio Songs recording is not yet started. After the success the Nanban songs, Tamil music director Harris Jayaraj was again approached by Thuppaki director to do songs for vijays next movie 2012 also. Harris accepted. Vijay and Harris combination will give a huge success in the second time in Thuppakki. The Kollywood news says that Akon of Smack and Chammak is going to give a song for the movie. First song recording stats by the month of February 2012 and Thuppaki Audio release date is not yet finalized.