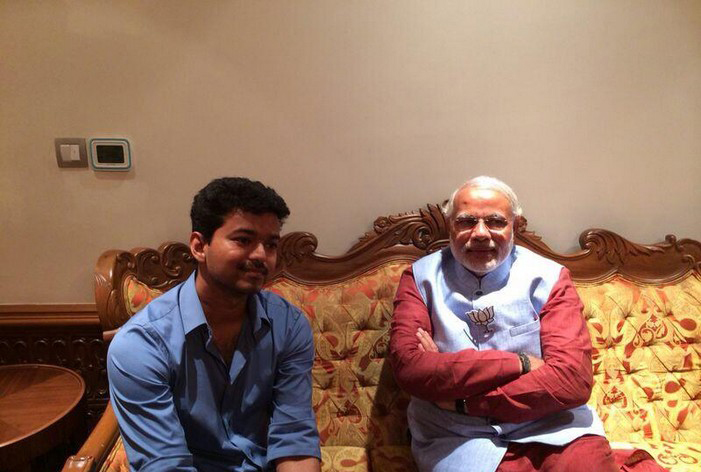 Illayathalapathy Vijay who shares positive vibes with Prime Minister and met Narendra Modi during elections campaign, took initiative and had written a letter regarding to a major issue that is concerning the film Industry.
Wishing Namo on his mission to make the nation a super power, Vijay explained him how the service tax imposed by previous Government affected people in the industry- from a producer to the production assistant.
In Vijay words: "Cinema is not only a medium that entertains masses but also generates massive revenue for the Government. But the sad part is that the industry is facing a lot of problems lately and despite the efforts of many, the attempt to revive the industry seems futile. Many theaters are turning into marriage halls and shopping malls."
"Many leading producers have met with heavy losses and are looking at other possible business opportunities. If this situation persists, I'm afraid the millions of people depending on the industry for their living, will lose all their jobs," Vijay added.
Requesting PM to encourage and support to take the Indian cinema to a global platform Vijay said, "I humbly request you to withdraw the service tax and save the film industry."
Vijay ended, reminding that leading stars including Amitabh Bachchan, Shahrukh Khan, Sharath Kumar, Mammootty, Mohanlal, Venkatesh, Pawan Kalyan and many others had earlier voiced against the new service tax scheme.
Hope 15th Indian Prime Minister Narendra Modi looks into the matter and help the workers of entertainment department to grow along the film industry…