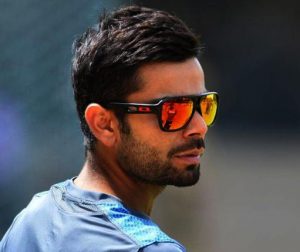 India's Star batsman Virat Kohli joins an elite list of star Ambassadors to provide neccessary support in the build-up to the ICC 2015 World Cup to be co-hosted by Australia and New Zealand between February and March.
Virat, Australian pacer Mitchell Johnson, all-rounder Shane Watson, New Zealand skipper Brendon McCullum and Sri Lankan veteran Kumar Sangakkara have been appointed ambassadors for cricket's most-anticipated event, which is now only 92 days away.
The ICC Ambassadors will add their support and considerable profile in the build-up to and during the showpiece event. The star players will also be involved in the ICC's Corporate Social Responsibility (CSR) programme and event promotions.
Virat, a star for India in their victorious 2011 World Cup campaign, said: "It is a matter of pride to be selected as the ambassador of ICC. I thank ICC for bestowing this honour upon me. As a cricketer, I wish to spread the passion of cricket to grassroot levels and I look at this as an opportunity to unify global initiatives for cricket throughout the world."
Aussie speedster and World Cup winner Johnson, was delighted to be part of the elite group that will be supporting the 50-over WOrld Cup.
"As Australia and New Zealand gear up to host ICC Cricket World Cup 2015, I am extremely proud and delighted to be associated with the competition as an ambassador. I look forward to helping promote what is set to be a fascinating tournament with some outstanding teams gearing up to claim cricket's most coveted prize.
"I have been fortunate to participate in two World Cups to date and the Australia team is working hard to head into this tournament with some form and momentum. The tournament is going to really capture the imagination of the Australian and New Zealand public and there's a real buzz about it. I'm sure all lovers of the game will relish it as much as the players," said Johnson.
Brendon McCullum, who has featured in the past three World Cups,
said: "With the World Cup just months away, no doubt all countries will be actively plotting and planning their campaigns. In 1992 our sport captivated the nations of both New Zealand and Australia, and I have no doubt the 2015 edition will do just the same.
"I am confident the tournament will again inspire a generation of Kiwis and Aussies to fall in love with this great summer game. After representing NZ at three previous Cricket World Cups, It is very humbling to be presented the opportunity to be an ambassador of this edition of the tournament and also the ICC during World Cup year. May the best team win!"
Kumar Sangakkara, who featured in the 2007 and 2011 finals in the West Indies and India, said: "I am honoured to have been appointed an ambassador for the forthcoming ICC World Cup in Australia next year alongside some great players.
"The ICC World Cup is the showpiece event in the global game for both players and fans – a festival of cricket that invariably provides compelling entertainment. Like many, I can't wait for the start of the 2015 tournament in Australia and New Zealand, which I am sure will be a huge success. As an event ambassador I hope to assist the ICC in promoting the values and excitement of the World Cup, as well as supporting the ICC's significant community programmes off the field that have become an important part of this great event."
Watson, one of the world's leading all-rounders who tasted World Cup glory in 2007, commented: "I am very honoured and thrilled to be an ambassador for the ICC and the ICC Cricket World Cup 2015. Having played in the 2007 and 2011 World Cup campaigns, it truly is a special occasion and once-in-a-lifetime opportunity to play a World Cup at home against the best teams in the world.
"I am sure cricket fans from Australia, New Zealand and around the world will be captivated by this wonderful event and will witness plenty of fantastic cricket. It is an exciting time to be part of the Australia team.
"To be part of a transition phase that now has us playing quality cricket is fantastic and we are looking forward to the challenge of playing against the best players in World Cricket. Every team has their eye on holding up the World Cup trophy and I hope fans will be inspired by the spectacle and the excitement of Australia and New Zealand hosting the ICC Cricket World Cup 2015."