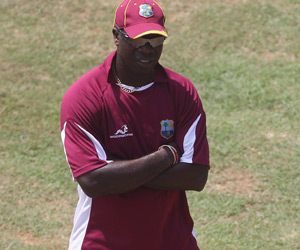 CHENNAI: West Indies have not beaten a big side for some time but their coach Ottis Gibson is confident of upstaging India in their last league match on Sunday to advance to the quarterfinal stage of the World Cup.
The Group B is still wide open with only the South Africa assured of a berth in the quarterfinals. The remaining three spots will be decided after the South Africa-Bangladesh tie on March 19 and India-West Indies match on March 20.
"We cannot worry about what happens or will happen in the match between South Africa and Bangladesh. It is a tough time.
For about 20 months or so, we have not beaten big teams. We got to win the match against India to stay in the competition. We know it will be a full house on Sunday," Gibson said at the post-match conference after his side lost to England by 18 runs.
"We need to play our part in this game (against India). I do not think it is advantageous for us from the pitch. We are going to play on the adjacent pitch to the one that we played England. We need to win the toss and make 400 runs to put pressure on India," he said.
Gibson said his side can take a lot of positive from today's loss to England.
"Any defeat is a disappointment. West Indies cricket in the past also used to fall apart. We hung there even when the score was 150 for 6 and when Chris (Gayle) gets out, the things will fall down.
"But our young brigade has done a great job in bowling. Andre Russell is only playing his second international match. Ramnaresh Sarwan played well but he was out to a good ball from Graeme Swann. You saw the young guys coming good from this game. Despite the loss to England, we take a lot from this game," Gibson said.
The West Indies coach gave credit to off-spinner James Tredwell, who dismissed four West Indies batsmen for 48 runs, to script England's win.
"I have known Tredwell's abilities. We had a good discussion in our team about chances of Tredwell playing and he had done a good job making good use of the conditions. It is a good performance for him but an unfortunate result for us."