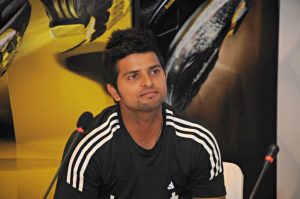 Nottingham: India on Friday suffered a set-back with opener Rohit Sharma being ruled out of the remainder of the series but star batsman Suresh Raina said the visitors have enough options to fill in for the top slot.
Opening the innings, Sharma had scored 52 runs in the second ODI but he sustained a fracture in the middle finger of his right hand and has been ruled out of the remainder of the five-match series. Murali Vijay has been drafted in as his replacement but the Tami Nadu opener won't be able to reach here in time for the third ODI atleast.
In his place, Ajinkya Rahane is expected to open the innings with Ambati Rayudu coming into the playing eleven. The other option is to make Virat Kohli open like he did versus New Zealand in Hamilton but that doesn't seem likely given the star batsman's wretched run with the bat at the moment. "Opening in England is always a difficult job and unfortunately Rohit has got injured. But we have a lot of youngsters and options to choose from," Raina said.
"Sanju Samson is here and we also have Ambati Rayudu, and we have Murali Vijay coming. He is a Test specialist, but he has done well in one-dayers and the IPL.
"We are looking to be positive and do what we can do on the field. We will discuss in the team-meeting and decide who will open the batting," he added.
Raina had smashed his first century outside the sub-sontinent to help India trounce England by 133 runs via Duckworth/Lewis in the second ODI at Sophia Gardens and the 27-year-old said he is looking forward to the next games.
"It was a good knock. God has been very kind. I love batting against England," said Raina referring to his innings.
"I have done it in the past, when I played my first game against them in Faridabad. I got my first man-of-the-match back then. At the same time I am looking at the next game because there is a lot to learn and lot to be achieved. I just want to continue my good form."
"The contest between England and India is always challenging. We did well in the last game so atmosphere in the dressing room is very positive. Everyone is looking forward to the next three games. We still need to achieve a lot of goals that we have set in team meetings. Hopefully we will do well in upcoming games," Raina said.
The left-hander was dropped from the Indian team for the Asia Cup after a poor ODI run in 213-14, both at home and away in South Africa and New Zealand. He returned to lead the side on the mini-tour to Bangladesh and as the selectors look to build up to the 2015 World Cup, he has inevitably made a comeback to the squad with a bang.
"I analysed my game after being dropped from the Asia Cup. I was scoring 30-40 runs regularly but was not able to convert them into big scores. I was batting well but the conversion was a problem. So I played some domestic cricket and then did well in the IPL too," he said.
"I talked to my coaches, worked out with Pravin Amre, talked with Sachin Tendulkar and Sourav Ganguly as well. I worked on my game for 2-3 months and improved my concentration and fitness. There is too much competition for places in the Indian team and now I am a senior batsman as well. So that is an added responsibility," said Raina.
Talking about the short-ball tactic deployed often against him, Raina said, "I have worked hard at it. It has been 10 years now that I have been playing at this level. It's more important for me to be in present than worry what has happened in the past.
"I have done a lot of hard work in the last two-three months and I still have a lot of work to do for my team."