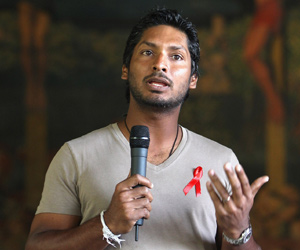 MUMBAI: Sri Lanka skipper Kumar Sangakkara said on Thursday that it was always nice to play at home and they will miss the home crowd greatly when they play New Zealand in their last Group 'A' match at Wankhede Stadium on Friday.
"We will miss them greatly but at the same time we know that if we win tomorrow, we can give them something special," said the stylish left-hander.
Sri Lanka will play their first away match of the tournament on Friday. However, Sangakkara said that wickets in India seem to be lot more balanced than in Sri Lanka. "Chasing in India would not be too much of disadvantage whereas in Sri Lanka the conditions do change and it could be a slight advantage to a side. The totals seem to be bit high here," he said.
The captain also felt there will be no huge expectations and there will be no home pressure. "Sometimes at certain stages there will be no huge expectations. That expectation is going to go away but we love playing in Sri Lanka in front of our crowd. Their support really lifts us rather than putting us down."
Although Lanka have 4-2 edge against New Zealand in World Cup, the past is past, said Sangakkara. "When you are playing in World Cup, the past doesn't matter. For us, it is like going back to the basics. We make sure we cover all our basics and take the opportunity to present them tomorrow."
Sangakkara feels that the teams should not think too much of Powerplay. "It should not dominate too much of your thought and strategies."
The searing heat conditions could be an advantage to the Lankans, he said. "Different sides react to the heat in different ways. But being a sub-continental side, we are used to play in heat."
Sangakkara said that small grounds don't necessarily mean it would be easy to get boundaries as in the case of Wankhede Stadium. "One has to be skilful to get boundaries."
All-rounder Tillakaratne Dilshan had an important role to play for his side, Sangakkara said. "All the three aspects of Dilshan's game are very important to us, his batting, his bowling and his fielding. He has got a knack of doing something special in either of the disciplines. For him being part of our squad, is very good for us."