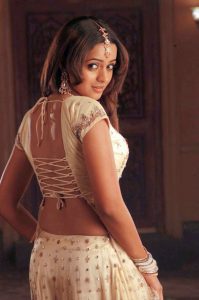 Bhavana is a famous Malayalam film actress from Thrissur in Kerala. Bhavana is the young and beautiful actress of South Indian films today. Her original name is Karthika.
Bhavana made her way in to the field with her immense talent and pleasing beauty. Bhavana becomes one of the most wanted and the new sensation in a very short span of time. Bhavana lost her career in mallu movies so she is very busy in tamil movie world.
This pretty smiling girl gained name in Tamil films through the blockbuster Chithiram Pesudhadi. Bhavana's role in the film was remarkable, and she was a natural in front of the camera. The film brought her good recognition.
Bhavana thereafter, kept away from glamour, preferring performance-oriented characters. Though her work in films like Deepavali, Aarya, Koodal Nagar, Rameshwaram have been appreciated, none of them were runaway hits.
Bhavana Profile
Name : Bhavana
Birth Name : Karthika
Nickname : Kaathi
Birth Date : June 6, 1986
Birth Place : Thrissur, Kerala India
Sex : Female
Nationality : Indian
Height : 5′ 6″ (1.68 m)
Hair Color : Black
Eye Color : Black
Zodiac Sign : Gemini
Sexual Orientation : Straight
Race or Ethnicity : Asian
Religion : Hindu
Profession : Actress
Years Active : 2002 – Present
Major Genres : Action, Comedy, Drama, Thriller
Debut Movie : Malayalam – Nammal (2002), Tamil – Chithiram Pesuthadi (2006), Telugu – Ontari (2008)
First Major Screen Credit : Nammal (2002)
Father : G. Balachandran Menon (Asst. Cinematographer)
Mother : Pushpa
Brother : Jayaddev
Career Highlights : Veyyil, Daivanamathil, C.I.D. Moosa, Udayananu Tharam, Twenty:20
Claim to Fame : As Parimalam in the Movie "Nammal" (2002)
Hobbies : Watching movies, Music, Reading books
Speaks : English, Tamil, Malayalam
Inspiration : Savithri
Admires Actor : Madhavan
Favorite Music : Classical, Western, Hindustani and film stuff
Favorite God : Lord Guruvayurappa
Favorite Songs : Enthandaga Unnave
Favorite Dress : Salwar Kameez, Jeans, sarees