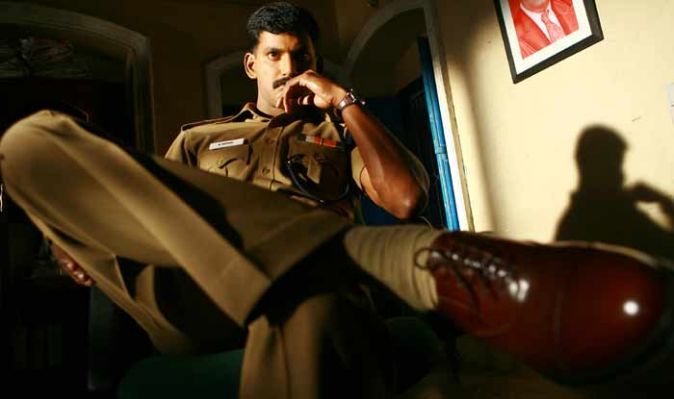 Name : Vishal
Birth Name : Vishal Krishna Reddy
Also called : Puratchi Thalapathy
Profession : Actor, Assistant director
Date of Birth : 29th August 1977
Nationality : Indian
Mother Tongue : Telugu
Height : 6'1″
Weight : 84 Kgs
Family : Father – G.K.Reddy (film producer)
Brother : Vikram Krishna Reddy (a) Ajay (actor & director)
Education : B.Sc., in Visual communication, Loyola college.
Languages known : Tamil, Telugu, Hindi & English
Debut Tamil: Chellamae
Inspiration and role models : Rajnikanth & Ram Gopal varma
Training : He underwent training with choreographer Jayanti for his dance movements and stuntman Kanal Kannan for fight scenes. He also took 3 month acting lessons from a Koothupatrai troupe.
Vijay : If given the chance as a director he would like to cast actor Vijay to be his movie hero.
Jayam Ravi : Rates him as a complete hero
Dream role : would be something like 'superman'
Favourites Hero : Rajnikanth, Prakashraj.
Heroine : Sridevi, Simran
Director : Ram gopal varma
Music Director : Ilayaraja and Haris Jayaraj
Singers : Hariharan and Harini
Color : Black
Food : Seafood
Indoor games :Chess
Laptop : Can be seen with it always
Ambition : to become a director
Email id : [email protected], [email protected]
Resides In Anna Nagar, Chennai
Facts
Started his career as assistant director
His brother produced his 2 films Sandakozhi and Thimuru.
G.K. Reddy, his father, is a very famous film producer
He is one among the actors who got 3 back-to-back hits.
Remake movies in which he likes to perform
The character 'Alex Pandian' that Rajnikant had played in 'Moondru Mugham'.
The philandering aged father in 'Nettrikan'.
Vishal Krishna (born 29 August 1977) is an Indian film actor who has appeared in primarily Tamil language films. Often starring in his home productions, Vishal became an actor after a stint as an assistant director in films. Vishal played his first role in the romantic thriller Chellamae, before going on to secure a run of three consecutive successes with roles as action hero in the 2005 film, Sandakozhi, and with Thimiru in 2006.[1] After appearing in two further successful films, the failure of his hyped home production, Sathyam halted his streak. Since he has failed to reproduce the success he has faced early in his career.
Career
After completing his degree in Visual Communication at Loyola College, Vishal was able to secure an apprenticeship with noted film-maker Ram Gopal Varma but his parents refused and wanted him to work in South Indian films. Vishal subsequently went on to assist actor-director Arjun in his ventures Vedham and Ezhumalai. Whilst on the sets of Arjun film, a producer spotted Vishal on the sets and signed him to appear in Gandhi Krishna's directorial debut, Chellamae.Accepting the role, Vishal prepared by joining Koothu-P-Pattarai to hone his acting skills and played the protagonist role of Raghunandan whose wife, played by Reemma Sen is kidnapped by her childhood friend, portrayed by Bharath.The film opened to rave reviews and subsequently went on to become a commercial success, but Vishal's performance was overshadowed by Reemma Sen's and Bharath's with a critic claiming his performance is "apt" but "there was plenty left to hone".His next film was Sandakozhi with Linguswamy who had previously worked with his father's production house as an assistant director. The action film co-starring Meera Jasmine and Rajkiran, upon release became a blockbuster and its Telugu dubbing also created an impact.The film also gained critical acclaim and Vishal was described to have "improved from his Chellamay days" and "clicked as an action hero".The success of Sandakozhi saw further opportunities arise for Vishal, with film journalists claiming that he was "the fastest rising action hero" of the time.After a cameo as himself in Sai's Dishyum, he went on to appear alongside Reemma Sen for the second time and Sriya Reddy in Tarun Gopi's action film, Thimiru. The film opened to mixed reviews with Vishal being praised for his intense performance with a critic claiming his performance "is the film's only strength and, to an extent, making up for the weak script and poor characterisation".The film eventually went on to become Vishal's third consecutive commercial success, and he began to emerge as a new leading actor in Tamil films.
His next film, the political drama Sivappathigaram directed by Karu Pazhaniappan and featuring Mamta Mohandas and Raghuvaran became a failure financially despite favourable reviews.His next released in January 2008, Hari's multi-starring family drama Thaamirabharani and the film went on to gain considerable box-office success, carrying good reports amidst other big budget releases. Later in the year he appeared Boopathy Pandian's Malaikottai, a comedy entertainer starring Priyamani. In his first full-length comic role, Vishal received mixed feedback for his portrayal from critics, with Rediff stating that he is "a far cry from the rather endearing young man in Sandakozhi", whilst describing his performance as "cringeable", but another critic cited that he had utilised the opportunity well.Despite mixed reviews, the film took a large opening and became another big success for Vishal.
His following two releases, however, Sathyam and Thoranai, his only releases in 2008 and 2009, respectively, failed to do well at the box office.
Vishal will next appear in a leading role in noted filmmaker, Bala's Avan Ivan alongside Arya. During production, the film has gained Vishal acclaim for his change of image, with his portrayal as a squint being expected to gain him acclaim post-release.During the shoot of the film, Vishal suffered from severe eye pain and headaches whilst he also suffered a serious muscular injury on sets.Furthermore Vishal has signed up to play the role of a police officer in two other films simultaneously. The first being Pattathu Yaanai, in which he recombines with Boopathy Pandian; the second being an untitled home production directed by Prabhu Deva and featuring Sameera Reddy in the lead role.
Family
Vishal Krishna was born on 29 August 1977 to G. K. Reddy and Janaki Devi in Andhra Pradesh. His father was a leading film producer for Tamil and Telugu films and his family were settled in Chennai for business purposes. His elder brother, Vikram Krishna now produces several of Vishal's films and had previously appeared as an actor in small budget films under the screen name of Ajay. Vikram is married to Sriya Reddy, who played the love interest of Vishal in his home production, Thimiru.[19] Vishal also has a younger sister, Aishwarya, who is pursuing a degree at college. Vishal obtained his secondary education from Don Bosco Matriculation Higher Secondary School before securing a degree in visual communications from Loyola College, Chennai. He attended Loyola with actor and producer Udhayanidhi Stalin and his wife Kiruthiga, whom Vishal has maintained a close friendship with since his college days.
Relationships
In February 2008, Vishal told the media he was in love with an actress, but refused to name her publicly. Speculation arose that the actress was either of his co-stars, Priyamani or Nayantara.[21] Priyamani almost immediately told the media that the actress was not her whilst Nayantara also soon went on record and denied the links.Reemma Sen and Trisha Krishnan was also speculated thereafter, which Vishal went on to deny.