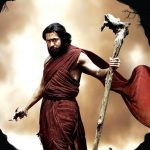 Banner: Red Giant Movies
Production: Udhayanidhi Stalin
Direction: A.R. Murugadoss
Star-casts: Suriya, Shruthi Haasan, Johnny Tri Nguyen, Azhagam Perumal and others
Music: Harris Jayaraj
Cinematography: Ravi K Chandran
Editing: Anthony
Performances
As expected, Suriya amazes us with his performance in both the contrasting roles of Bodhidharma and a circus artist. The actor puts in his sincere efforts and all his hard work is visible on the screens. His dedication by the way he shapes up his physique for two distinct roles is laudable. He does such complex roles like Bodhidharma with ease and amazes us.
7am Arivu is a dream debut for Shruti Haasan. The multifaceted beauty has got a meaty role including few emotional scenes apart from the dance and romantic scenes. She looked like million bucks and her performance was okay. The actress has dubbed her own voice but she should have worked a bit more on that.
Johnny Tri Nguyen as the deadly villain is extraordinary and terrific. Let's welcome him to the Tamil cinema. Rest of the cast did their bit as required.
Story

The story takes off in the 6th Century AD showcasing the Tamil Pallava king Bodhi Dharma (Suriya), who leaves to China from Kanchipuram and becomes a saint. He is an expert at martial arts, medicine and nokku varmam ( hypnotism) and he helps one whole village in the country with his arts. He teaches the martial arts and is the founder of Shaolin. He will be worshipped by all the Chinese as Tao after his demise. Cut to the present, Aravindh (Suriya) works as a circus artiste in Great Bombay Circus who falls for Suba Sreenivas (Sruthi), a research student. The duo becomes thick pals however Aravindh finds out that Suba has some motive behind her steps. Meanwhile, the Chinese government sends Dongli (Johnny Tri Nguyen), a martial art expert to India to accomplish the mission of Operation Red so as to kill Suba as she founds Aravinds DNA matches with that of Bodhidharma. How will they accomplish the task is all about the film.