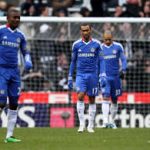 Chelsea will worry about suspensions after the English FA decided to take a further look at his slap on Phil Neville.
The two players clashed during Chelsea's 1-1 draw against Everton, and although referee Lee Probert had failed to see the incident, the English Football Association have asked him to take a second look, according to the Daily Mail.
Replays showed the Frenchman slap Neville on the face, although the Englishman did not make an issue about it at the time.
Probert will also be asked for his second opinion at a lunging tackle by Branislav Ivanovic on Seamus Coleman.
If the referee decides he would have shown Malouda or Ivanovic a red card, they will be charged with violent conduct by the English FA, which would mean a ban of several games for the two players.
The bans would come at a very awkward time for manager Carlo Ancelotti, with Chelsea struggling in recent games.
Neville did not mince words after the game, saying: "I get struck in the face and I'm the one who ends up getting booked later on.
"I think it's the wrong decision.
"You want to keep 11 players on the pitch but you always want fairness."
His manager, David Moyes was equally angered, saying: "Phil could quite easily have stayed down and held his face but he didn't."
However, Chelsea would have their own cause for complaint in the clash, with Petr Cech suffering badly after a stray kick in the face from Tim Cahill.