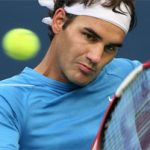 World Number 2 Roger Federer has beaten top seed Rafael Nadal to win the ATP World Tour finals in London.
Federer was at his ruthless best taking the first set 6-3. The Spaniard though snatched the momentum in the second after taking a three one lead.
Nadal took the set 6-3 finishing off with a sliced forehand.
The match went into the decisive third set where Federer seized the initiative breaking Nadal in the fourth and sixth games to eventually wrap up the set 6-1.
This was Federer's 5th ATP Tour final win.