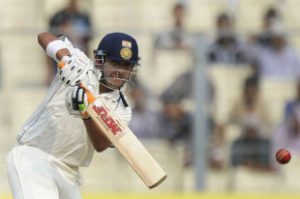 For the past two days, the Indians have been obsessed with the sweep shot. Virat Kohli has spent most of his playing time at the nets being on the knees and endlessly repeating the horizontal bat shot. He was also seen discussing the paddle sweep with MS Dhoni. Gautam Gambhir, Shikhar Dhawan and Ajinkya Rahane too seem to be planning to take the sweep option against spinners.
At the England nets, the spin bowling machine was wheeled out for wicket-keeper Jos Buttler so that he could adjust to the spin and bounce on the central square. Word has it that both Ravindra Jadeja and Ravichandran Ashwin could be included in India's playing XI. The England batsmen, meanwhile, took turns playing slow turners from net bowlers.
Spin was in the air at Old Trafford. The locals say this isn't a venue where the ball swings, but the 22 yards is known for its bounce. This, along with the turn that the pitch encourages in the later part of the match, makes captains draft spinners in the side.
India wouldn't mind a surface like this. Considering the resources at their disposal, this is the best they could have asked for. Earlier in the series, Dhoni had always been reluctant to play two spinners. When it came to including the extra bowler in England, he had opted for a pacer. Defending pace all-rounder Stuart Binny's inclusion, he had made his dilemma public. "There is no super-sub role in Test cricket. If it was there, then we would have an extra seamer in the first innings and a second spinner in the second innings because it was obvious that you need a spinner in the second innings," he had said.
With the Binny experiment failing, Ishant Sharma injured and India's MVP Bhuvneshwar Kumar to be preserved in the series, Dhoni's pace alternatives were limited. Forget taking 20 wickets, there were times during the Southampton Test when it looked like India's '3 pacer, 1 spinner' attack was struggling to bowl even 90 overs a day.
India couldn't have competed with England in the head-to-head pace contest, but in case Dhoni includes two spinners in the side, there happens to be some hope. England's have grown up playing swing bowlers, but have never faced a 'mystery bowler'. In case the pitch does support spinners, Ashwin and Jadeja can turn it for India.