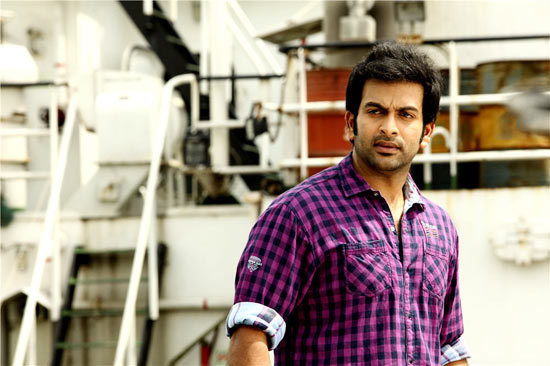 Name :Prithviraj Sukumaran
Nick name : Prithvi, Raju
Profession : Actor, Mode
Date of Birth : Oct.16 1983
Birth Place : Kerala
Nationality : Indian
Mother Tongue : Malayalam
Mother Tongue : Malayalam
Family : Father – Sukumaran (actor)
Mother : Mallika Sukumaran (actress)
Brother : Indrajith (actor)
Sister-in-law : Poornima Indrajith
Niece : Prarthana
Education Schooling : Sainik School, Kazhakkoottam, Thiruvananthapuram, Kerala Bharathiya Vidya Bhavan, Thiruvananthapuram, Kerala
College : Computer Engineering at the University of Tasmania, Australia
Languages known : Malayalam, Hindi, English, Tamil
Debut film Malayalam : Nandanam(2002)
Tamil : Kana Kandein (2005)
Introduction : Fazil introduced him to screen playwright Renjith who was searching for a new face in his first directorial venture Nandanam
Brand Ambassador : LG India for the Kerala Sector.
Dream : To be an ambassador for Malayalam cinema
Achievement : The youngest ever to win the Kerala state best actor award
Favourite directors : Blessy, Roshan Andrews and Anwar Rasheed
Memorable moment
When Rajinikanth called and congratulated his performance in Mozhi
Awards
* Best actor award for 2004 based on the poll for the best talents in the TV-Film world conducted by the Emmanuel Saries, Thrissur.
* Kerala State Film Award for Best Actor for Vaasthavam 2006.
* Sathyan Memorial Award for Best Actor for 2006-07.
* Mathrubhumi-PSS Most Popular Actor Award which is sponsored by Federal Bank.
* Mr LA Fest, in 1999 at LA Fest, an annual inter school Arts Festival hosted by Loyola School, Trivandrum. He represented Bharathiya Vidya Bhavan at the competition.
Facts
* He resembles his father in his looks and nature.
* Along with his brother in his school days he used to take part in debates and elocutions in the school.
* He is the only person to win the personality contest LA-Persona twice in the history of the competition
* He got the offer for Nandhanam movie while he came home for the vacation from Australia where he was pursuing his Bachelor's in Computer Engineering.
* In his early years he was asked to wear a beard in films because directors felt that it would make him look older.
* He is the youngest actor to receive the Kerala State Award for the Best Actor, breaking the record held by Mohan Lal for nearly 20 years.
* His first movie in tamil was directed by K.V.Anand and he appeared as a villian and his second tamil movie was directed by veteran director Bhagyaraj.
About him
Shyamaprasad (Malayalam Director) :
"It's not fair to gauge his merit by such success rates alone. Prithviraj is an intense actor who is very talented and very intelligent."
Indrajith (Actor and his brother) :
"He has always been a shy person and talks less even when he is at home."
Quote
"I used to belong to that tribe of people who never knew what they wanted. Now, finally, I am doing something I like. I like the rush of adrenalin, the kick that acting gives me. I want to be an actor till I die"
Address
[email protected]
Chandrakamal
Tagore Nagar
J-Lane, Vazhuthacaud
Trivandrum -14, Kerala, India
Prithviraj, younger son of the famous Malayalam actor the late Sukumaran and actress Mallika, is the rising star of Malayalam cinema after Mammootty and Mohanlal. Prithvi did his schooling from the Sainik School and the Bharathiya Vidya Bhavan in Thiruvananthapuram. He was doing his Bachelor Degree in Computer Engineering at the University of Tasmania, when he came into the film world. During one of his vacation trips to Kerala, director Fazil introduced him to screen playwright Renjith who was searching for a new face in his first directorial venture. Ranjith impressed by him offered the lead role in his film 'Nandanam' (2002). So he discontinued his studies and concentrated on acting. Quite early in his career Prithviraj was fortunate to act in films directed by leading directors in the Malayalam filmindustry such as Lohitadas, Vinayan, Kamal and Bhadran.
Prithviraj managed to win the hearts of the Malayalam film audience through his first film itself, especially that of female viewers. He had a definite edge over other younger heroes with his good looks- he was tall, had a good moustache and acting talent – he could do both action and romantic roles with panache.After the fantastic performance in 'Nandanam' he got several offers. His list of sterling performances include films like, 'Swapnakoodu' (2003), 'Vellinakshatram' (2004), 'Akale'(2004), 'Daivanamathil'(2005), 'Ananathabhadhram'(2005) etc. In 2006, Lal Jose's 'Classmates' was released and it turned out to be one of the biggest blockbusters in Malayalam cinema. After pulling off the role of a corrupt police officer quite well in Vargam (2006), Prithviraj acted in another film 'Vaasthavam' with the same director, M. Padmakumar and again it was a hard hitting drama and Prithviraj got noticed for his intense acting. As Balachandran Adiga in Vaasthavam, Prithvi once again proved that he is here to stay.
He made his Tamil debut in cinematographer K V Anand's film 'Kana Kandein' (2005) in which he did a negative role. After 'Kana Kandein' Prithviraj has his share of fans in Tamil Nadu too. His second Tamil film 'Parijatham' directed by veteran Bhagyaraj, gave Prithvi the break he needed. In the wake of the success of Parijatham, Prithvi has become one of the most sought-after heroes in Tamil cinema. Another noted Tamil film was 'Mozhi', produced by Prekash Raj, in which he was paired with leading heroine, Jyothika. The success of his films helped to enhance his stardom in Tamil tinsel world.
Among the current crop of new faces in South Indian cinema, Prithviraj is definitely the most bankable star.