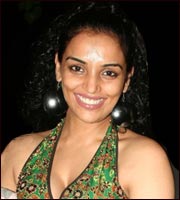 Actress Swetha Menon, who had recently revealed being in love with Mumbai based journalist Sreevalsan Menon, says that she would continue acting even after marriage.
Latest reports suggest that Swetha would get married to Sreevalsan on the 18th of June. The marriage would take place at Swetha's ancestral house at Valanchery.
Apparently, the horoscopes of the bride and the groom have been found to be of a great match. Swetha has made it clear that the marriage would be a private family affair. The couple would host a reception later for media and friends later.
Meanwhile, Swetha's much anticipated film 'Rathinirvedam' would release on the 17th of June.