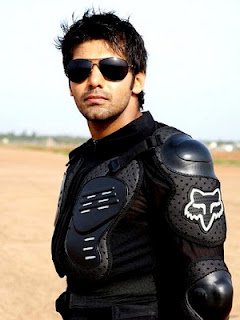 BW: When did Sarvam come to you?
Arya: Vishnu wanted to make Sarvam much before Billa but it somehow happened only after Billa. Sarvam came to me around that time.
How did the story of Sarvam impress you?
I had an idea of the script and once I started working in it, the story unraveled. I liked and enjoyed every bit of it. As I have immense faith in Vishnu, I did not go into the nitty-gritty details of the film.
What makes Arya-Vishnu combo special?
Vishnu knows me in and out. I have been working with him since Arindum Ariyamalum days. More than the director-actor relationship, we are friends first. He knows my strengths and weaknesses and would not go too much on my negative side. He brings out the best and finer aspects of me. We get along like a house on fire and can relate to each other very well.
" Vishnu knows me in and out "

How do you think Nirav Shah's work has helped Sarvam?
Vishnu, Nirav and I are working together from Arindum days. For me, as well as Nirav, Arindum was our first film with Vishnu. I feel he has also grown hugely as a cinematographer with every film. The films that Nirav worked with Vishnu, be it Arindum or Pattiyal or Billa or Sarvam, each one was different and unique and had its own characteristic feature. Similarly, his work in Sarvam is remarkable and is in sync with the flow of the film.
" Karthik is the best role that I have played in my film career so far "

Special effects were used in song sequences in Sarvam. Was it challenging for you as an actor?
The crew associated with this had a proper plan on hand and I had a vague idea. They instructed me on my movements and knew what they wanted. So it was not difficult for me.
Can you compare Karthik of Sarvam with Rudran of Naan Kadavul?
Karthik is the best role that I have played in my film career so far. It had many shades from romantic to serious to emotional. There was so much of variation and it was very challenging. Rudran is a 'once in a life' role and I cannot do it again. It is like an achievement for me. One cannot compare Rudran with any other role.

You almost played two different roles – happy-go-lucky and serious – in Sarvam. Which was shot first and did you prepare for it?
We shot almost 75% of the 'happy-go-lucky' character first. Then later, it was shuttling between this role and the other. There was no preparation as such. We developed as we went along.
After Ullam Ketkume, Sarvam is where you are shown as cool and yuppie. Are you the same in real life too?
The character Karthik that I play is Sarvam is the real me. During shoots, Vishnu would always remind me that it is ME that I am playing whenever I tried to do something different. He had written the script with me in mind. So it was very natural for me.

How was it working with child artiste Rohan?
Working with a child artiste could be one of the toughest things for an actor as well as a director. Kids are very naughty, genuine and their expressions are very naïve and innocent. This is Rohan's first film and one cannot force things on him. You have to be extremely patient, friendly and understandable. You have to work according to his style and adapt to his working. He does not know the intricacies of cinema. Whatever he did was natural and you have to cope with that. You learn a lot when you work with a kid.
" You learn a lot when you work with a kid "
The Rottweiler experience?
It was very difficult and I used to take shots after every shoot and see if the dog was ok and not affected by rabies. It was very strenuous and there was a sequence when I fight with the dog. His master is telling him to fight and I am having my hand inside his mouth. He was a very fearsome dog. At the end of the day, we all know that's how cinema is and I am happy that somehow it got over.

Darkness is a major element in the second half. How was it shot?
The climax was shot in rain and in water. We were shooting in November, December and it was cold in the middle of the forest. We shot for a week to ten days continuously. I nearly gave up. The body could not take the beating for an extended period of time. I took almost ten days to recuperate after that. But I guess these things are part and parcel of film making.
" Art and costumes stand out in Sarvam "
Do you believe Sarvam is technically superior to other films that you have done to date?
Definitely! It is far more superior than my previous films.

Can you elaborate on the work of art department in Sarvam?
Two things people are talking about after watching Sarvam apart from main content are costumes and its art work. Generally, people don't discuss such things. Art and costumes stand out in Sarvam. The church created by Manu Jagadh was phenomenal.

What do you feel is the USP of Sarvam?

Its USP is its new thought. It is not cinematic. These things can happen to anybody. A small event can completely change one's life. I feel this is its novelty and USP.
Arya-Trisha chemistry has raced Arya-Pooja chemistry. Your take on this?
I think it's more to do with way the scenes are shot. The romantic scenes in Sarvam are cool and energetic. Trisha was looking good. Added to that, the costumes, the situation and the cast – I think everything fell in place. Moreover, I am very comfortable with Trisha, as I know her for more than ten years but this is the first time we got to work together. I think these factors contributed a lot to our chemistry on screen.
" The romantic scenes in Sarvam are cool and energetic "

Rajnikanth was also added along with superman, spiderman series. Did this evoke any kind of issue?
No. We are only adding Rajnikanth to the super hero league. I cannot say this about Vikram or Kamal Haasan. In India, I feel only Rajnikanth can be compared to a superman.
About the Simbu dialogue…
It was not said in an insulting or a derogatory manner and was in a lighter vein. Simbu is basically very sportive and I don't think he is going to take offence on this.