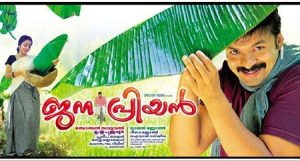 CAST: JAYASURYA
MANOJ.K.JAYAN
JAGATHI SREEKUMAR
LALU ALEX
SALIMKUMAR
BHEEMAN RAGHU
BHAMA
SARAYU
DIRECTION:BOBAN SAMUAEL
PRODUCED BY:Reen.M.John,Mamman John
WRITTEN BY:KRISHNA POOJAPURA
Jayasurya who is known to be an experimenter when it comes to the roles that he chooses to play, would be seen in the title role of Boban Samuel' film 'Janapriyan'. Scripted by Krishna Poojapura, who had written the scripts of super hit films as 'Ivar Vivahitharayal' and 'Happy Husbands'.
Besides Jayasurya, the film would also have Manoj K Jayan, Bhama and Sarayu in key roles. Jayasurya plays younger brother to Manoj K Jayan in the film. The cinematography of the film is by Pradeep Nair. The film has been produced by Reena.M.John and Mamman John under the banner of Spot Light Vision.
The plot says Jayasurya plays Priyadarshan, a village simpleton, who is overjoyed on being temporarily appointed at the Taluk Office on a leave vacancy. The officer who has gone on leave is Vaishakhan (Manoj K Jayan), who is busy pursuing his dreams of turning a film director some day. Priyan merges into the city landscape in no time, and its busy inhabitants find his ways amusing. And for the first time in his life, he falls in love.
Priyadarsan talks a lot that too in a peculiar slang, is highly idealistic and falls in love with Meera (Bhama), who lives next to his room in a lodge where he is staying in the city. He loves her as he thinks that Meera is the maid there, but actually she is the daughter of a wealthy businessman. There is a confusion drama happening with Vysakhan falling for Revathy (Sarayu), who is actually from a poor household. The problem with Krishna Poojappura's script is that it is way too simple and highly melodramatic. The scenes have just been stitched together in an unimpressive way and at best, it looks like a TV serial on screen.
Jayasurya plays his character pretty loud with his contrived style of dialogue delivery and mannerisms. Bhama and Manoj K Jayan, along with Jagathy Sreekumar lend ample support.
Verdict: Janapriyan a watchable fare.