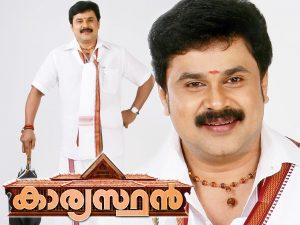 Debutant director Thomson has religiously stuck to the oft-used and highly conventional pattern of narration, while making Kariyasthan. Though a bit lengthy at more than two hours and forty five minutes, the film has some hilarious situations and is a fairly decent effort in general, if you don't have a problem with its rather jaded storyline.
The story begins a few years back when two wealthy families – Kizhakkedathu and Puthezhathu- were living in great unity in a sleepy village called Krishnapuram. Certain issues that happened during the marriage of Rajan (Siddique) create a rift between the families and he has to flee from the place to a village in Tamil Nadu, with his wife.
After several years, Rajan's son Krishnanunni (Dileep) comes back to Krishnapuram as a Kariyasthan, to bring the two families together once again. But he soon learns that it was never going to be an easy task. During his stay there, Krishnanunni falls in love with Sreebala (Akhila), who belongs to the Puthezhathu tharavadu where he is employed. Some confusions, comedy, fights and song n dance routines later, things come to a happy end.
Well, the story looks nothing new and the situations have been seen before several times, in some of those old Rajasenan-type comedy-dramas. Still scenarist duo Siby K Thomas and Udayakrishna have managed in developing this weak plot into an okay script.
Director Thomson doesn't experiment much here and you can find every emotion in the required measures that would be essential in a formulaic film. The visuals by P Sukumar are good and Berny-Ignatius' songs are okay in parts.
Dileep hits a ton considering the number of his films and this one is completely focused on the actor. He plays the 'janapriya nayakan' card to the core in his trademark style. The heroine, Akhila, has to look pretty which she does quite well, especially in the song Malayalippenne… . Veteran actors Madhu and G K Pillai give a genuine look to the story as the patriarchs of the two families. Suraj Venjarammood is in top form and makes things humorous with his antics.
Kariyasthan certainly follows the same old formula, but even then it is a fairly enjoyable ride. It could have been more attractive, if it was at least thirty minutes less in its length. If you don't think too much and just want to have some funny time at the theatres, this one could be a possible option.