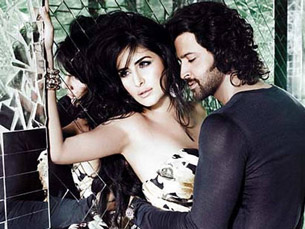 Hrithik Roshan and Katrina Kaif are the lead actors in the upcoming film Bang Bang and the movie had a break in the shooting schedule. Now as the makers plan to resume the filming, it looks like there is a problem with dates for the two actors. In the recent past, we saw that Hrithik had a brain surgery due to a minor accident that he had while shooting for his upcoming film Bang Bang. This entire incidence has lead to Hrithik taking a break from the movie's schedule.
This has not only messed up the shooting schedule but also has left the leading actress Katrina away from the studios as she does not have any film projects at the moment. Katrina And Hrithik's Clash Katrina kept herself occupied by doing a few advertisement shoots and also had a London getaway for her sister's wedding. She had good long break from the B-Town but now she will suddenly be very busy as she has to juggle between movies. In her free time, Katrina signed up for a movie titled Jagga Jasoos in which she is paired opposite Ranbir Kapoor.
On the the other end, we have Hrithik who has announced that he will keep himself free for the next schedule of Bang Bang from November 15. Looks like Katrina maybe unavailable then. So here lies the problem. Katrina is yet to figure out and plan her hectic schedule. We'll be back to you with the confirmed shooting dates and other updates of Bang Bang.