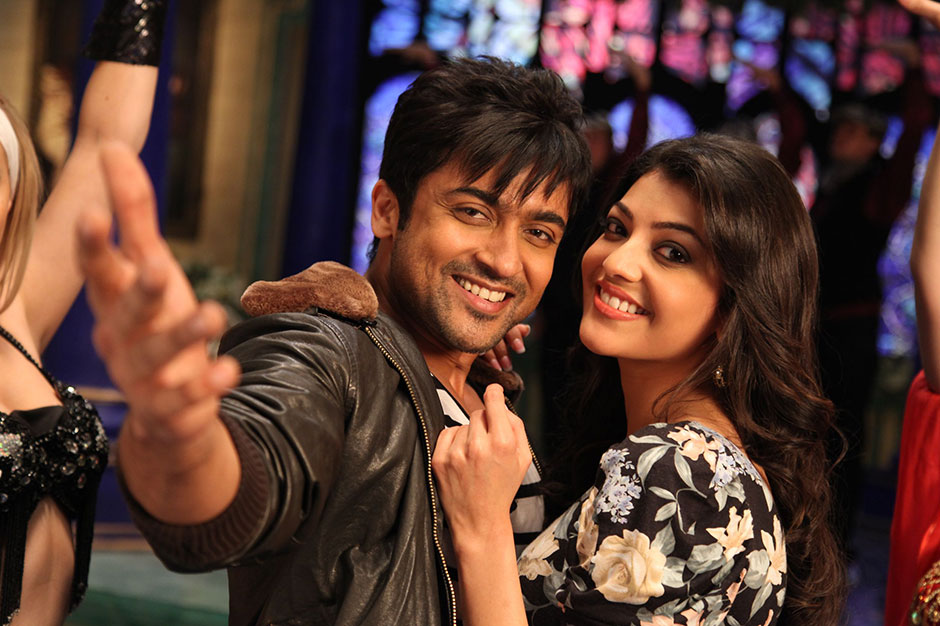 Movie : Maatran
Director : K. V. Anand
Producer : Kalpathi S. Aghoram
Written : K. V. Anand,Subha
Starring : Suriya,Kajal Aggarwal,Sachin Khedekar
Music by : Harris Jayaraj
Cinematography : S. Sounder Rajan
Editing : Anthony
Studio : AGS Entertainment
Distributer : Eros International,Thameen Movies (Kerala)
Running time : 172 minutes
Country : India
Language : Tamil,Telugu
Budget : INR110 crore (US$20.79 million)
Maattrraan is a Tamil action thriller film directed and co-written by K. V. Anand and scripted by Subha.It is being produced by Kalpathi S. Aghoram under the banner of AGS Entertainment. The movie stars Suriya, portraying conjoined twins, along with Kajal Aggarwal in lead roles while Sachin Khedekar and Tara play supporting roles. Maattrraan was released worldwide on 12 October 2012 along with a dubbed Telugu version titled Brothers.
Maatran Movie Story
Ramachandra (Sachin Khedekar) is a genetic scientist who wants to create a new revolution in science. His area of interest is baby designing and he chooses his own wife to experiment it. But things goes wrong and his wife delivers a conjoined twins with a common heart. Though Ramachandran wants to separate the twins, which will naturally lead to the death of one baby, his wife strongly opposes. Meanwhile Ramachandran's project gets rejected and after a long struggle he sets up a baby milk powder (Energion) and it clicks…
Fast forward to the current situation: Now the twins have grown up but they opposite in nature. Akhilan (Suriya) is smart, witty and peppy while Vimalan (Suriya again) is calm, understanding and intellectual. At this point Anjali (Kajal Aggarwal) walks into their life. Both Akhilan and Vimalan develops a special liking for her but she falls for the smartness of Vimalan.After a few crucial incidents Vimalan learns (through a Russian journalist) that the milk powder which Energion produces is been adulterated with a life threatening steroid, which will start giving side effects after few years. This means it will affect India's next generation… A twisted turn of events leads to the death of the journalist followed by Vimalan… What will happen next? Who is behind all these? Akhilan begins his search, which leads him to former USSR country… Problems gets bigger…. Watch Maattrraan to know more…
Actors Performances
With every film that he does, Suriya is getting better and better. He carries the entire film on his shoulders and he does it with ease. He has shown the difference of the conjoined twins rightly in the body mannerism and voice modulation. Post the interval, he appears in this third look and he does everything perfectly.
Kajal Aggarwal is pretty and beautiful; but she has to work more harder to get the lip sync right.
Sachin Khedekar plays a very important role in this film and he needs no introduction at all. In fact he is one of the seasoned actors that the country has ever seen.
Isha Sharvani's dance number is above average. Tara, Suriya's mother, the Russian journalist and the army officer have done a good job.
Technical Analysis
K.V. Anand's association with Subha duo has once again emerged as the winner. However the second half of the film could have tweaked a little to increase the pace. Kudos to the director for his excellent research skill.
Harriis Jayaraj's songs and background scores are ok. However it fails to create any major impact as the songs remind us of his earlier tunes.
Cinematography by Sounder Rajan is perfect and stylish while Anthony's editing works are sleek.
The film is produced by AGS Entertainment and Eros International has acquired the distribution rights. The film is also simultaneously released in Telugu as Brothers.
Final Verdict
Maattrraan is a perfect watch for this weekend with your family