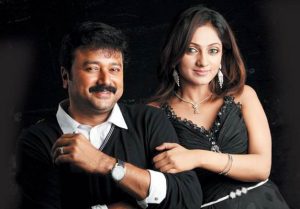 Director Shafi's Makeup Man narrates a story happening behind the camera, during the shooting of a film.
The tumultuous life of a couple, after the wife becomes a heroine just by chance and the husband is forced to disguise himself as her makeup man, is being told here.
Balu (Jayaram) is in dire straits after his event management company run into heavy losses. He has nowhere to go and just then Soorya (Sheela), who is madly in love with him, flees from home before her marriage. The lovebirds tie the knot with the help of a film production manager Kichu Manjaly (Suraj Venjarammoodu).
After some dramatic twists and turns, Soorya is chosen as the heroine in the film in which Kichu is working. The director changes her name to 'Anamika' and Balu remains with her, as her personal makeup man.
The basic storyline bears similarity to several films from the past, like Ram Gopal Varma's Rangeela, for instance. There are some nice moments in between but mostly, the story goes along on highly predictable lines and in a disturbingly slow pace.
Kunchacko Boban and Prithviraj appear doing cameo roles, without making much of an impact to the story. With a rather ordinary script, the film develops in the absence of a definite direction or focus. The actors involved seem to be disinterested in the proceedings after a while. The visuals by Azhagappan are fine but the music by Vidyasagar doesn't help things a bit.
Jayaram repeats his usual style perhaps as he has nothing much to do and the heroine Sheela, is just about okay. Suraj Venjarammoodu is fine during the initial scenes but the humorous scenes look stale after a while. Siddique looks good as a film-director. Salim Kumar and Jagathy Sreekumar are okay but Jagadeesh's stammering act as a lawyer towards the end is plain boring.
Makeup Man has nothing great to offer for the viewers. If your idea of entertainment is limited to those lines, well, it could turn out to be a watchable fare at best.