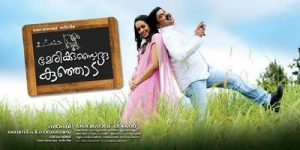 Prepare to laugh your guts out as director Shafi offers some genuinely funny moments in Marykkundoru Kunjaadu. There are scenes, dialogues and mannerisms that reminds of some of Dileep's earlier films but it has all been intelligently developed into a nice script by Benny P Nayarambalam.
Solomon (Dileep) is a lazy and timid young man, living in a sleepy village and his dream is to become a film director. He has been nicknamed 'Kunjaadu' (lamb) by the villagers and is in love with Mary (Bhavana), the daughter of a wealthy landlord named Ittyachan (Innocent).
It's a daily routine for Solomon to get beaten up by virtually everyone around, especially from his ladylove's brothers. But life takes a different turn for Solomon with the arrival of a well built stranger (Biju Menon), who is introduced to the villagers as his long lost elder brother. All these go hunky dory for a while but soon Solomon realizes that things are going out of his hand!
It's a rather ordinary storyline and Shafi takes some time before getting his act together. In fact, the story takes a more interesting turn with the arrival of Biju Menon's character. The visuals by Sham Dutt are good and the music by Berny Ignatius suits the mood quite well.
Though traces of his Chanthupottu look are evident during the initial scenes, Dileep come up with a fantastic show, playing the comic hero in an amazing way. His comic timing is impeccable and the witty lines get a tremendous effect with his trademark style.
Biju Menon has to perform his character without much dialogues and he has done a brilliant job. Bhavana looks beautiful and the role of the rather bold girl suits her perfectly. The rest of the cast including Innocent, Salimkumar, Jagathy Sreekumar, Vijayaraghavan and Vinayaprasad have done their parts very well.
Marykkundoru Kunjaadu is a smartly packaged comedy, which may not be great but is indeed enjoyable. It gives little time to think about the merits of the storyline or its flaws for that matter, which is perhaps a sensible way to make a film of this genre. And it could easily turn out to be the best bet that is available at the cinemas now. Go for this one!
Movie:Marykkundoru Kunjaadu
Director:Shafi
Music:Berny Ignatius
Cast:Dileep, Biju Menon, Bhavana