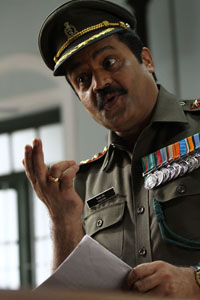 Debutant Madhav Ramdas' much acclaimed Malayalam film Melvilasam, which was released last week in Kerala, will be dubbed in Tamil.
Starring Suresh Gopi, Parthiban, Thalaivasal Vijay and Nizhalgal Ravi, Melvilasam is based on Soorya Krishnamoorthy's well-known drama of the same title and considered to be one of the most pathbreaking films in Indian Cinema. A special preview of Melvilasam took place in Chennai recently.
The whole film has been set inside a room where the court martial of a soldier named Sawar Ramachandran (Parthiban) is taking place. He had shot at two of his superior officers, killing one of them. The climax is how Captain Vikas Roy (Suresh Gopi), who defends him, brilliantly unveils the untold stories that led to this incident.