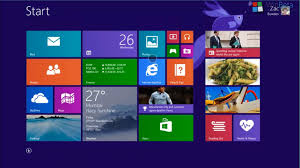 The update for Windows 8.1 was finally unveiled last evening with an aim to appease Microsoft's long time keyboard and mouse users. Microsoft went all touch with its Windows 8 in 2012, which was a major change for the users. There was a lot of dissidence and last year Microsoft brought out Windows 8.1 to appease users. Now, the first update to Windows 8.1 solely focusses on Microsoft's legacy clientele and we take a look at the key optimisations that it brings to the table.
With the Windows 8.1 update, the firm claims to bring a solution that adds better mouse support for full screen apps. One can spot the key buttons like the 'close' and 'minimise' on the top right corner. Apart from that, right clicking an app on start screen is also enabled through which a user can resize or shift an app on the start screen. Many more tweaks can be seen that give importance to your mouse and keyboards.
Windows 8.1 update now brings in power button and the search button on your start screen (for select devices), which means that one can shut down their devices straight away without looking out for a hot corner to pop that option.
Another little change that one would notice is that the Windows Store is now pinned to the taskbar by default. Spotting new apps won't be a problem anymore with this and once the a new app is installed one can see a notice where the user can see what they downloaded. Microsoft has also added a setting tile to the Start Screen so that users can access settings more easily.
Microsoft is also talking about a new update that will come after the aforementioned update that will restore Start Button functionality one is used to on Windows 7. Additionally, Microsoft will also add windowed usability for WinRT or modern UI style apps.
With these minor but useful changes Microsoft expects to woo its users back. The firm would discontinue its support to the Windows XP from 8th April and would certainly expect a majority of people to even shift to their Windows 8.1 update. Microsoft received its share of praise and criticism when it launched its first touch interface and with time it plans to evolve and bring customers a platform, which is easy and user friendly. Microsoft has also said that Windows tablets and Windows Phones that are smaller than 9-inches will now not have an licensing fee