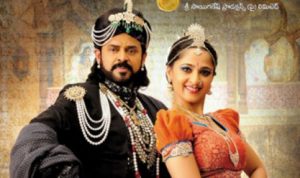 Two deaths occur in a rich businessman's (Sharat Babu) house and he approaches a 'sadhu' for 'dosha nivarana'. The sadhu feels that it is closely linked to a painting (of Chandramukhi) which his daughter (Kamalinee) recently bought.
Enter the physciatrist Vijay (Venkatesh). He finds that there is a connection between the erstwhile King Nagabhairava (Venkatesh) and Chandramukhi (Anushka). How he unravels the mystery forms the rest of the story.
When you plan on making a sequel to one of the biggest blockbusters in South India, Chandramukhi, you ought to make it better than the original or comparisons with the original would kill it.
Anushka in Nagavalli
As it has been proven many times, this one also establishes that the original is better any day. In the case of Nagavalli, a sequel to Chandramukhi and a remake of the Kannada film, Apta Rakshaka, the result is even worse. The first 45 minutes of Nagavalli is just a recap of Chandramukhi.
The real drama starts post interval with Venkatesh portraying the bad king. But those scenes fail to make an impact as they are just a copy of Arundhati. The repetitive scenes, sluggish screenplay and lack of suspense makes the movie an uninteresting fare.
In a nutshell, it is just a mix of Chandramukhi and Arundhati. Moreover bad performances have killed the interest further. Humor is in bad taste too.
Venkatesh dons the role of the psychiatrist and the king. In a villainous role, Venky is just about okay. There are times when one wonders how Venky could deliver such a bad performance.
Anushka does not have a lengthy role but she does justice to the role.
Kamalinee Mukharjee and Richa are convincing. Shraddha Das does not fit the role. Poonam Kaur has nothing much to do. Comedy by Brhamanandam and Dharamavarapu hardly evoke any laughter.
The royal sets designed by art director Chinna are eye-catching. Sham K Naidu's visuals are equally cool. Music by Guru Kiran lacks punch. Visual graphics are nice. Rama Rajamouli has also done a good job styling the character of the king and Nagavalli.
Dialogues by Parachuri Brothers are theatrical. P Vasu, who belongs to an old school of film making, as a writer and director has not shown any creativity nor does his screenplay hold the audiences` interest.
Nagavalli lacks thrilling moments like Chandramukhi. Some episodes in the second half are the only saving grace.