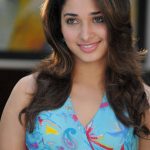 Tamannaah is in Theni shooting the climax scenes for her prestigious Kanden Kadhalai, a remake of Jab We Met.
The heat and sultry weather has taken a toll on the actress as she was keeping unwell and has just recovered from a flu.
We caught up with the vivacious actress in between shots for this quick chat
Newspapers have reported that you have done a French kiss with Bharath for Kanden Kadhalai?
(Laughs) That's really interesting. Actually, we shot this so-called climax scene yesterday and it was like any normal day at work. Sorry to disappoint everyone but we never shot such a scene, which is there in the original script.
So how was that scene shot?
When Kannan sir, my director came with the idea of remaking Jab We Met with me, I had told him that I am excited to be a part of this remake, if the lip-to-lip kissing scene is avoided and he promised me. So, there was no confusion about it and we shot the scene yesterday and like in all films, I kissed Bharath on his cheeks and forehead.
You have been keeping unwell?
Everyone on the sets including my director, hero and assistant directors were having flu and I too caught it. Now I am ok.