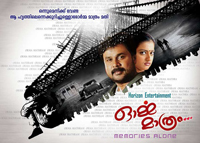 Dileep sports a serious look in Madhu Kaithapram's Orma Matram, a film about how a couple copes with life when their child goes missing.
Madhu,  has earlier directed films like Ekantham and Madhyavenal.
The movie revolves around Ajayan (Dileep), a clerk at a lawyer's office. His son goes missing and the story follows the father's journey in search of his son.
Priyanka Nair plays his wife Safiya and Sidharth dons the role of their son.
Writer C.V. Balakrishnan has written the screenplay and dialogues based on Rahim Kadavath's story. Cinematographer is M.J. Radhakrishnan, Lyrics by Kaithapram Damodaran Namboodiri have been tuned by Kaithapram Viswanathan.
Orma Matram is produced by Rajan Thaliparamba under the banner of Horizon Entertainment.
The cast includes Nedumudi Venu, Jagathy Sreekumar, Salim Kumar, Harisree Asokan and Dhanya Mary among others