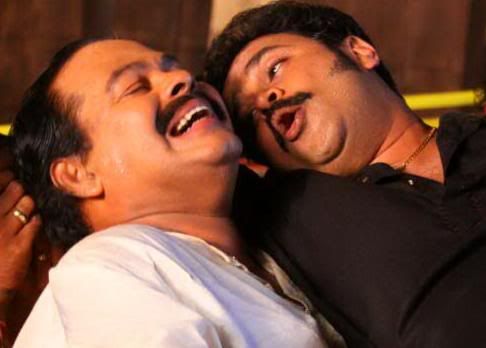 Pappy Appacha was a much awaited movie by all as it marked the come back of Kavya Madhavn after her brief marriage. Directed by the debutante director Mammas, the movie seems to fall into the category of an average movie with nothing very special and unusual except Kavya.
Now, the story revolves around a father and his son, which is played by Innocent and Dileep. Both are so attached and friendly in the film that they even attend nature's call together. They are a very good business people who handles everything right from distilleries to hospitals to schools. But it is established early on in the film that they are not rich in the real sense of the word. They survive by rolling funds and when they face real shortage, they resort to insurance fraud.
Kavya Madhavan plays the role of a school teacher Annie in the film run by the father and the son. Annie had besotted Paappy ( Dileep). Both had a dispute while they were in school after Pappi played a prank on her in school. Annie decides to contest in Panchayath election against Paappy. Things started changing from here onwards.
The film seems to concentrate on Dileep and his mannerisms rather on the story. There are comedy scenes that one finds it very hard to digest and may be one needs a rib tickling for it. Dileep's role as a son, and hero is quite impressive but his unnecessary jokes and gestures makes it a bit boring. Kavya Madhavan played a decent role. But this time their chemistry hasn't proved impressive.
All others in the cast including the villain role played by Suresh Krishna and Asokan, who plays a rich man, are ok. It is directed by Mammas and the music is composed by Vidyasagar. The movie is to attract mainly children with the comedy and Dileep's mannerisms. But as far as adults are concerned, it may be hard to digest.