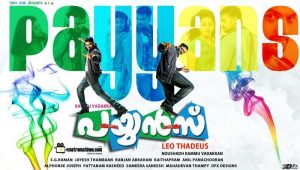 Do you enjoy the mushy tearjerkers on TV that seem to go on and on, with twists and turns, laughs, pathos and melodrama in excessive measures? Director Leo Thaddeus' Payyans is almost on similar lines. There are some nice moments, of course, but you need to have real patience while waiting for them to happen!
Josy (Jayasurya) lives in a huge bungalow, with his mother Padma (Rohini). He is yet to complete his engineering and likes to go around in style, doing nothing worthwhile. His mother tries to make him disciplined, but she loves him a bit too much to impose any rules to make him realize all that.
There are no real clues about his dad, John Varghese (Lal), a marine engineer who never returned home after a trip to Sri Lanka. Josy becomes a radio-jockey pretty easily and falls in love with Seema (Anjali), a sound engineer at the radio station. Things take some dramatic turns, after some time.
With a script that is too preachy and even pretentious, the film has a shaky start and the first half is quite tedious. There are some characters like the one played by 'Guinness' Pakru that barely has any relevance in the story. It has perhaps been included for comic relief but you tend to cringe in your seats waiting for the story to happen in right earnest. Things get slightly better in the second half.
Jayasurya does the role of the protagonist in his usual style and there is not much to test his acting chops. Anjali, who stole many hearts with his scintillating performance in the Tamil hit Angaditheru, has a surprisingly insignificant role where all she has to do is just to look pretty, which she does.
Lal has done his role quite well and used his baritone voice in an effective way. Rohini has also done her role in a fine manner. Suraj Venjarammoodu repeats his trademark antics before turning serious, perhaps for a change! S G Raman's visuals and Alphonse' music are okay.
Payyans is all about the coming of age of a reckless youth. There is an inherent honesty about the storyline for sure, but even then it barely affects you with a shaky script and the narrative style is a tad too old. Now if you think all these fit your concept of entertainment, well, give this one a try.