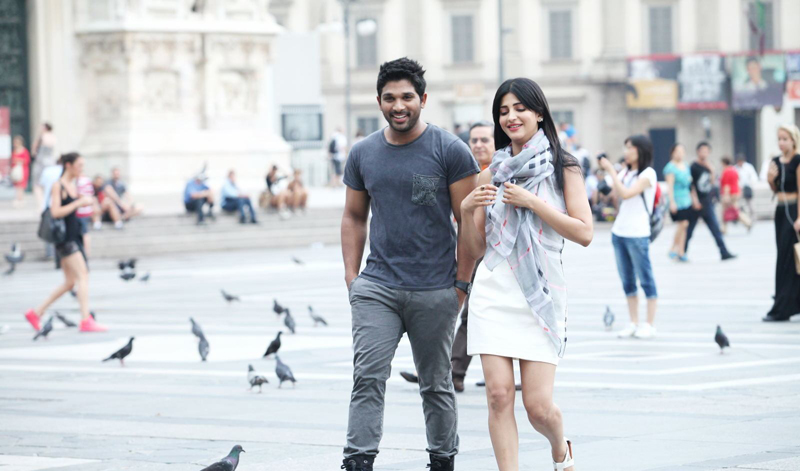 Movie : Race Gurram (2014)
Star Cast : Allu Arjun , Shruti Haasan, Saloni
Director : Surender Reddy
Producer : Nallamalapu Srinivas
Music : Thaman S
Releasing on : April 11, 2014.
Rating : 3.75/5
There is no other genre safer than entertainment. If a movie mermerizes the audience to forget the outside world for almost two and a half hours, then certainly such a film becomes Super Hit. That's why entertainment is trustworthy leaving all other things such as story and logic behind. "Race Gurram" is the movie that has come with such measurements. The movie has all the ingredients that are generally expected by the audience. They have made this Horse gallop with high-level entertainment. How is this "Race Gurram" ? With what speed did the characters run …?? To know all these, lets enter into the story…….
Story :
Ram (Kick Shyam), Lucky (Bunny) are Brothers. Both brothers are at loggerheads because of their ego and always tries to pinion each other just like TOM and JERRY.
Ram is good at studies and worked hard to become Police Officer. But Lucky becomes vagabond. Shiva Reddy is a big Rowdy in the city. His ambition is to become Minister. However, a lot of Police cases were registered against him. The Police Department reopens these cases and tries to stop Shiva Reddy to become an MLA by collecting evidence against him. In this regard, a senior police officer loses his life. So, the duty to check Shiva Reddy vests on Ram. Ram collects evidence to arrest disorderly turned politician Shiva Reddy. Knowing this fact, Shiva Reddy plans to kill Ram. Lucky voluntarily steals police jeep. Even though Ram escapes from this plot,
Lucky comes to know that someone is trying to kill his brother. In such a situation, he warns Shiva Reddy and obstructs against filing the nomination for the elections. With this, he develops a deep hatred against both the brothers and tries to take revenge on them. He becomes Minister on MLC quota and makes Ram suspend from the Department, collapses his house illegally and makes his family homeless. Then Lucky starts his race……He challenges Shiva Reddy to deprive of his political power and authority. What Lucky has done to achieve this ? How he received his brother's love …?? is all the rest of the story.
Positives :
* Allu Arjun has delivered wonderful performance. He impresses the audience with his action, dance and comedy timing that reveals his magic again. With his trendy costumes, Arjun has set a new style for himself in this movie.
* Shruti Hassan has also done her best and rocked with her glamour.
* The first half of the film has a couple of romantic songs, good volume of comedy and an action scene, which keeps the audience engaged.
* Saloni and Shyam, who have important roles in it, have done justice to their characters.
* As "Kill Mill Pandey", Bramhanandam tickles the funny bones of the viewers. His role in second half is a big asset for the film. He punched with the dialogues like, "Cut-out choosi konni konni nammeyali dude….."
* As MLA Govardhan, Posani Krishna Murali also creates a laugh riot in the cinema halls.
* 40 Minutes of climax is Simply Awesome.
Negatives :
* There is not much to talk about the movie in negative sense, except
the scenes with Prakash Raj were far away from reality.
Technical Aspects :
* Race Gurram has good sound production elements.
* Thaman's soundtracks and background score are the main attractions in the technical front. His songs have already become chartbusters.
* Cinematographer Manoj Paramahamsa has also done brilliant job, which is one of the big assets of the film. Especially, his picturisation of beautiful locales in song sequences is a visual treat.
* Ram-Lakshman's choreography of fight sequences are good. The dance choreography is another big asset of the film.
* The selection of costumes and location is fantastic and simply superb.
* Goutham Raju's editing is also commendable.
Telugumirchi Analysis :
Overall, Race Gurram has excellent performances by lead actors, engrossing narration and rich production values, despite lack of fresh story line. Leaving the logic a side, Race Gurram will definitely entertain the audience. There is no movie at the box office except Legend in this summer season. This is a good feast for mass as well as class who are looking for a good movie.