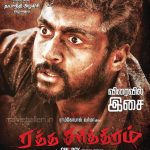 Movie:Rattha Charithram
Cast: Suriya, Vivek Oberoi, Priyamani, Shatrughan Sinha, Sasi, Sudeep
Direction: Ram Gopal Varma
Music: Mani Sharma
Raththa Charithram is about a man seeking to avenge the wrong done to him by turning into a victim of revenge. The strong point of this film is that it is based on a true incident.
Documentary films are genre apart from feature films and it is the duty of the director to ensure that while making a real-life incident into a movie, a viewer should not feel that it has traces of a documentary.
Ram Gopal Varma seems to have failed miserably on this aspect; especially in scenes where there is a background narration.
Suriya, Vivek Oberoi and all the other small characters in the film have performed well but unfortunately none of the characters remain etched in our minds. Not one of them has scope in Rattha Charithram. It makes a viewer feel so distanced from the film so much so that one may not be conscious of who is dead and who is alive in the film.
Though a film has a lot of violence, it should have an impact on the audiences who should at least be able to relate to the incidents that is shown on screen. But the director has failed on that aspect too. Though there are several gory scenes in RC, it fails to shock the audiences because, as mentioned earlier, the film does not create an impact in our minds.
The camera work needs a special mention because it is in sync with the story and script. The background music is nothing but noisy. There is no normalcy in the dialogues. It is really appreciable that kuthu songs, dances and comedy have been avoided by the director despite them being a prerequisite for commercial success. But the director could have averted the drama feel in this film.
One is left with the impression that something is incomplete in RC. Perhaps too much has been censored or much has been said in the prequel that the Tamil audiences failed to get it in this part?
Be warned that excessive slow motion sequences can cause irritation and headache.
It is true that we cannot expect intriguing and engaging scenes in a film based on reality, but the director could have elaborated in the political background to make the film more interesting.
Raththa Charithram – only Raththam in this Charithram!