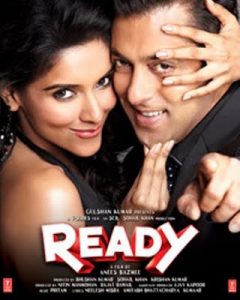 Film: Ready
Starring: Salman Khan,Asin,Zarine Khan,Arya Babbar
Director: Anees Bazmee
Producer: Bhushan Kumar, Krishan Kumar, Rajat Rawail, Nit
Banner: T-Series and Rawail Grandsons Entertainment and So
Music: Pritam Chakraborty and Devi Sri Prasad
Story:
'Ready' pitched as a Salman Khan film is an official remake of a Telugu film of the same name. Ready on the lines of comedy/family drama is a love story between Prem Kapoor played Salman Khan and Sanjana Singh played by Asin.
Prem is the only heir to the company 'Fragnance' perfumes owned by the Bhandari Brother's. Gautam, Rishi and Rajveer. He is a happy-go-lucky, carefree guy with a passion for painting. Prem falls in love with Sanjana at first sight.
Prem helps Sanjana mistakenly, who is on the run to escape from getting married to her Mama's brother in laws. Later Prem realizing what Sanjana went through makes sure that she stays at his home before one day she is taken aback by her Mama played by Sharat Saxena.
Prem, who loves Sanjana expresses his love to her before she too accepts it. Meantime she tells him that she wants her marriage happening in front of her mama's as it is her parents last wish. Prem too full-fill her desire enters the house of Sanjana's respective mama's with the help of chartered account played by Paresh Rawal. Here starts the rib-ticking comedy.
While Sanjana's mamas, who hardly see eye-to eye wants her to get married to their brother in laws to inherent her wealthy property, Prem devises a plan with his family members in a manner that both Mama's shy away from Sanjana getting married to their bro-in –laws. Will his plan works out, will he finally marry Asin forms the rest of the story.
Plus Points:
Ready is a full on full Salman Khan film as it completely rides on his shoulders and he hardly disappoints one. While there is not much to talk about the plot, Salman mesmerizes the audience with his charming performance. Dialogues by lead cast pack a punch and will strike chords with the audiences.
The film with sexual innuendos, toilet jokes and burps are cleverly mixed by Anees Bazmee to give out a wholesome entertainer. Plenty of digs at films like Kuch Kuch Hota Hai and Ghajini add to the humour of the film. Paresh Rawal in a scene perfectly mimicks Salman's good old buddy Aamir Khan. Character Dheela and Dhinka Chika are very well choreographed.
Minus Points:
Expecting a film with masala entertainment will sure have its loopholes and Ready is not far behind it. There isn't much too boost about the film in the beginning as it takes time for the film to get connected. Writing should have been tight and accurate to fit the present day bill but at places it is outdated, crisp one liners are far from few.
Anees should have taken the above into account but after going through the film one can easily witness that he completely was dependent on Salman to pull off this rather old fashioned script. It was unfortunate to see Asin not having too much to do in the second half.
Performances:
Undoubtedly 'Ready' is a Salman's show. His wacky humor, witty one liners especially Zindagi mein theen cheese underestimate nahi karne, 'I me and myself' and his unusual dance steps form the essence of Ready. Salman humming Maine Pya Kiya songs and Hum Aapke Hain Kaun dialogues add to the excitement of his fans.
Asin does a decent job and yes her chemistry with Salman works out brilliantly. Asin with her crazy antics also add to laughter quotient. But the surprise package of the film is Paresh Rawal as he shares many scenes with Salman in the second half and compliments him very well. Time and again he proves that he is the best when it comes to comedy.
Sudesh Lehri does a fine job too. Akhilendra Mishra, Mahesh Manjrekar, Anooradha Patel, Arya Babbar, Manoh Pahwa and Sharat Saxena justify their roles.
And yes, Salman shows off his bare chest much to the anticipation of his fans once again. Three on the trot with Wanted, Dabangg and now Ready.
Final Verdict:
If you intend to leave your brain at home and watch Ready, sure it won't disappoint you. One is bound to enjoy this film provided if he wants to get some relief from meaningful cinema.