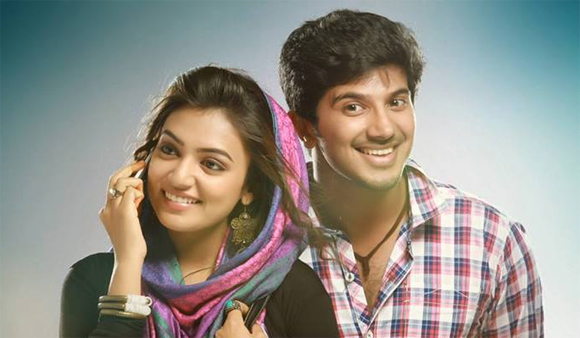 Movie : Salala Mobiles
Director: Sharath
Cast: Dulquer Salman, Nazriya Nazim, Jacob Gregory, Geetha, Siddique, Narayanankutty, Janardhanan, Mamukkoya, Tini Tom
Producer: Anto Joseph
Music: Gopi Sunder
Cinematography: Satheesh Kurup
Sharath Haridaasan's 'Salala Mobiles' has an unimpressive display, a flawed processor and a skimpy cell life to boot. It's a bloated and uneven attempt at crafting a romance, that is a calamity the moment you switch it on.
Afsal (Dulquer Salman) has got his mom (Geetha) all worried, since the young man has been sleeping through his days. His uncle in Salala (Jose) helps him set up a mobile phone shop called Salala Mobiles, and together with his best friend – cum – mobile technician Binoy (Jacob Gregory), Afsal looks like finally having anchored his life. Until, he happens to lay his eyes on Shahana (Nazriya Nazim), whom he falls instantly in love with.
The host for the day (Sreenivasan) announces as Afsal gets set to meet Alagarsamy (Santhanam), that the former's life will soon be changed forever. The mind tapping machine that Afsal lays his hands on, does change the track of the film, and it even looks like it might be on an upswing, from the few laughs that are generated shortly thereafter.
The makers do manage to gratify the voyeur in us, and along with Afsal and Binoy, we get to eavesdrop on telephonic conversations that crack the stillness of the night. Hoarse whispers and lustful sighs illuminate the dark skies, and in the process a few masks drop off like the one that the parallel college teacher Venu (Tini Tom) has been wearing for long.
The merriment that is generated out of some of these instances is genuinely hilarious. But no, good times do not last forever. In fact, post interval things turn out to be utterly miserable, and the viewers are left as listless as Afsal himself is; unable to confess his love, and unsure as to what he should do with his life.
In case you are under the assumption that its one of those love tales set against a backdrop of a world that is getting increasingly technologized with every passing minute, thing again. It's nothing of the sort, and the technology that it keeps bragging about reeks of those cheap plastic mobiles that you come across in the market.
The itsy bitsy tale that the film has to tell is told in one hundred and thirty minutes, which is way too long, any which way you to choose to look at it. Half of it is spent on Shahana sashaying around, Afsal gaping at her with a twinkle in his eyes, and a few songs that seem to be there as a mandatory requirement, more than anything else.
It's difficult to find fault with the leading pair in this film, and Dulquer sums up all the love that he holds in his heart for his lady love with a smile that should send many a girl fumbling across the street. And one wouldn't blame him, since Nazriya does look like a piece of the moon, and is divinely gorgeous. Anwar is a man to watch out for, and leaves a striking stamp in an otherwise humdrum film.
No amount of Dulquer's youthful charms and Nazriya's stellar looks succeed to bring this phone under network coverage. It splutters and breaks up every now and then, much to frustration of the listeners, forcing them to eventually toss it without a second thought, into the trash can.