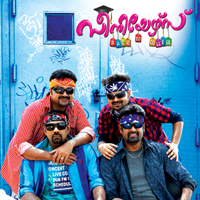 Though the rains has washed away the prospects of much of the films in Mollywood Box office, the new mutistarrer from Vysakh and Vyshakha Rajan, 'Seniors' still continue with its dream run. The movie takes the top of the list with little competition, continuously for the fifth week in a row. The top five movies of the week are :
1.Seniors' – The movie is undoubtedly the biggest hit of the year till now, grossing a distributor share of 5.7 crores in its 35 days run. The movie entering its 40 days in the Box Office, still hold strong at 43 of its release centres. While all the district headquarters still witness hundred percent collections in the weekends, the movie is in single shows in 8 centres.'Seniors' was made in a budget of 4.5 crores, including print and publicity.
2.'Badrinath' – Though the movie was released last week, this Allu arjun starer fails to bring in audiences as expected. The movie continues in its 75 centres with average collections.
3. Janapriyan' – The movie scripted by Krishna Poojappura created good word of mouth and even got stabilised in collections in its second week, the big rains has washed away the prospects of the movie to end up as a big hit. 'Janapriyan' is now down to 15 of its release centres in its fourth week. As of now, 'janapriyan' from Jayasuriya and debutante director Boban Samuel will be an average earner at best.
4. 'Manikyakallu' – The second movie from M Mohanan has to face a tough fight from Seniors in the initial weeks and succumbed to the mighty multistarrer, but in the later weeks the movie gained good word of mouth and well become a safe earner. This feel good movie from Prithviraj, is in its sixth week and continues in 15 centers, of which seven centres  have a single show.
5.'China Town' – The multistarrer from Rai-Mecartin team, featuring Mohanlal, Jayaram and Dileep is in its 63rd day run in nine of its release centres. But only three of them feature the movie in full shows, as all the rest have them as a noon show film. The movie made in a budget of 9 crores is reported to have earned 6.5 crores as distributor share from its 50 days run and will be a hit in all counts. Interestingly, 'China town' has also completed 1 crore collections from a single theatre in the capital city.
Megastar Mammootty' latest Jayaraj film 'The train ' has become his biggest failure in this decade, with very few takers, though the movie is just into its third week. 'Urumi' – now into its 75 day continues in a lone centre at the capital city.
T V Chandran's 'Sankaranum Mohananum' and Albert Antoni's movie with freshers 'Vadamalli' also opens to poor responses and may not remain in theatres for long.