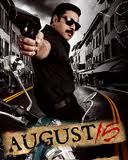 It is remake raj in Malayalam cinema.
Nearly a dozen old classics and earlier box-office hits mainly of the 1980's are going to be remade.
Last week, Padmarajan's Bharathan directed Rathinirvedam was launched with Shwetha Menon playing the role made memorable by Jayabharathi. Producer Suresh Kumar has tasted huge success recently  when he remade MT Vasudevan Nair's classic Neelathamara.
The remakes are capable of generating a feeling of nostalgia, and have tremendous recall value among the audiences. This will generate a box-office buzz around the film.
A classic like Adoor Gopalakrishnan's  Mathilukal based on Vaikkom Mohammad Bashir's novel which won a National award for Mammooty is going to have a sequel  Mathilukalkappuram, to be directed by Prasad.
Sequels of popular movies featuring Mammootty and Mohanlal were being made for the last so many years. Mammootty's CBI Diary Kurupu is all set to come out with its fifth part. A part two of August 1 with Mammootty in the lead titled August 15 is all set to release in March.
Mohanlal is all set to do a prequel to Rajavinte Magan with Thamby Kannanthanam directing. The super hit Naduvazhikal from the Mohanlal-Joshi team is now going to be remade with Prithviraj in the lead.
Two characters from different hit movies gunning for each other  which has been tried out before in Balram versus Taradas is now once again happening.
Now Mammootty's King character Thevalliparambil Joseph Alex IAS is going to take on Suresh Gopi's Bharath Chandran IPS!
Similarly all 1980's and 90's comedies are also getting remade or sequels are being planned around them.
Ninnishtam Ennishtam, Mukkillarajyathu, Malappuram Joji Mahanaya Haji , Meleparambil Aanveedu, Kasargode Kadherbhai-3, Pavam Krooran  etc, etc are now being remade or sequels planned around them.
In the next two years Malayalam cinema will see a festival of remakes and sequels hitting the screens.