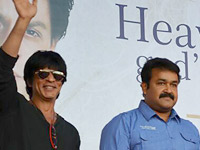 Shah Rukh Khan flew down to Thiruvananthapuram for a few hours to inaugurate a five star resort in Kollam.
The Raviz resort situated on Ashtamudi lake in Kollam, 65 Kilometres from Thiruvananthapuram  is owned by NRI businessman Ravi Pillai.
Kerala Chief Minister Oomen Chandy inaugurated the resort. Malayalam superstar Mohanlal was there along with SRK to give it a glitzy look.
It ensured a huge turnout at Kollam as fans wanted a closer look at the two superstars.
SRK made the right speech and made it a point to use some Malayalam words. " I have been here in Kerala earlier for the shoot of Dil Se, and now I'm back for the inauguration of this truly exotic resort. I came on the request of Priyadarsan and Mohanlal, I'm sure I will learn to speak Malayalam from them." He also entertained the crowds with a few punchlines from his forthcoming Don 2.
SRK and  Mohanlal, also launched the logo for "Kollam Feast", a tourism promotion campaign, at the Asramam Maidan in Kollam, which made the state government happy.