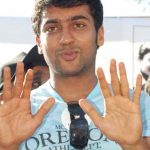 Suriya, who is making his debut in Bollywood with Ram Gopal Varma's 'Raktha Charithra', has said that his focus would always be on south Indian films.
"If I get roles that excite me I will surely do movies in Bollywood. But my preference is always south and I will not stop doing films in Tamil," the actor has said.
Thrilled about working with RGV, he said, "I feel Raktha Charithra would be a perfect launch pad for me in Bollywood. He (RGV) is one of the finest filmmakers and it was my longtime desire to work with him."
Based on the life of slain Andhra Pradesh political leader Paritala Ravindra, the film also has Vivek Oberoi and Priyamani in pivotal roles. "Vivek is a comfortable colleague. I enjoyed working with him," said Suriya. The film is made in Hindi, Telugu and Tamil languages.