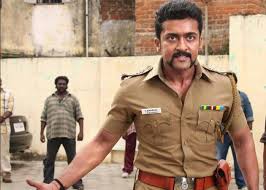 Tamil hero Suriya was in Kochi to meet the media persons to promote his forthcoming film, Singam 2.
The actor sported his stylishly grown walrus moustache in true Singam style and smartly answered all questions from the journalists.
"The remarkable success of Singam prompted us to go for a sequel and we hope this one will be accepted very well," said Suriya.
Suriya said that he preferred to express the mannerisms of the fiery cop in the Singam series "through my eyes." Anushka Shetty and Hansika Motwani play the heroines in the film.
He thanked his fans in Kerala for their huge support ever since his first film and the hero acknowledged the contribution of some of the Malayalam directors like Fazil, Siddique and Sasi Sankar, who made some crucial films in his career.
Will he act in a Malayalam film? "I would love to, if the right script comes to me," said a smiling Suriya.