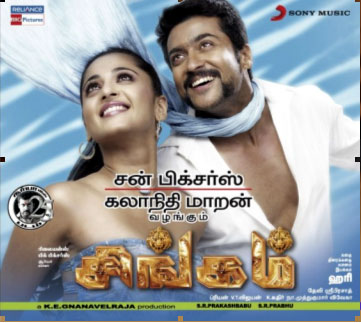 Music Review: Singam
Banner: Big Pictures, Sun Pictures
Producer: KE Gnyanavel Raja
Director: Hari
Star-casts: Surya, Anushka Shetty, Prakash Raj, Nasser, Vivek and others
Music Director: Devi Sri Prasad
Lyrics: Viveka, Na Muthukumar, Hari
Devi Sri Prasad might have kept you disappointed with some of his previous films, but this time, he's kicking it high on bigger notes with Surya's 25th film 'Singam'. The film has the best tracks that will be a special treat for all his fans.
The album of Singam has 6 tracks, which has a repetition of one song.
The opening song is 'Naane Indiran' is a special song for Surya's fans as the hero tries here to convey some interesting message for his fans with the lyrics. There are some hero worship lyrics here during the beginning by Manicka Vinayagam followed by Benny Dayal singing for Surya.
'En Idhayam' is the second song that brings Tippu and Suchitra together on the tracks. Elegantly done on all parts, the song is a sweet melody that will keep those who are in love more spellbound. Tippu is good on expressing his feeling and Suchitra also comes up with the same feel.
The next song 'Stole My Heart' is something like a situational romantic song. The Hindi singer Shaan is good on bringing the right feel. The other repetition during end of this album keeps you more attached and you will be listening to it again and again. By all chance, this can do better at FM stations.
'Kadhal Vandhale' is a Kuthu duet song that will have some good dance steps between Surya and Anushka. It is power packed song that gets more light with Baba Segal taking it good with right touch and Priyadarshini is equally finer on her tone.
The theme song 'Singam Singam' will keep appearing throughout the film, when the baddies become prey to Surya's fist of anger. Devi Sri Prasad himself has sung this song that has powerful instrumentals. One has to wait for the song to get over on screens to experience what the lyrical lines means.
Guys and Gals of Surya fans can keep yourselves happy as the songs will keep you engaged for next few months as the songs are simply enjoyable.
Tags:Surya's Singam Music Review,Singam Music Review,Singam Music,Singam mp3,Singam trailor,Singam online,donwload Singam,Singam box office