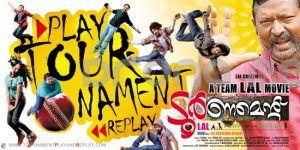 Lal's Tournament, with a few relatively new faces in the lead, has been presented as a different attempt, but ends up as a disappointment. Some scenes get a 'replay' after a while, from a different angle, which often gives a thrilling effect to the proceedings.
The same pattern has been used in the climax portions of Lal's recent films, 2 Harihar nagar and In Ghost House Inn. In all fairness, the concept succeeds in springing some surprise initially. But things go awry from then on, especially with a weak storyline and a fractured script. Remember, the concept of a replay of events where newer meanings happen every time has been brilliantly done by Tom Tykwer in his 1998 film, Run Lola Run
No such luck here and if you have seen a couple of thrillers earlier, the suspense can easily be guessed halfway into the proceedings. We may expect some twists in the tale but what we have here is a predictable and a rather mundane story.
Three youngsters are getting ready to go to Bangalore to participate in the selection trials for a cricket team, from Kochi. Two more have also been selected from the group and each of the teammates has plans to eliminate others so that their place is secure in the team. Several things happen one after the other, which includes a bike accident, cancellation of their flight and so on. Meanwhile, a pretty girl also becomes part of the journey.
It could have been a jolly good ride as a thriller, if the makers had worked on a better storyline. Worse still, there are too many loose ends in the story, which leaves the viewer with several doubts in their mind. The fresh faces have handled their roles pretty fine and that is one of the highlights of the film as well. Venu's visuals are really good and Deepak Dev's music is peppy.
Of course, Tournament has its moments and the 'replay' format gets the viewers involved in the storyline right from the beginning itself. But then, that turns out to be the problem with the film as well, as the plot seems to be too simple to become a taut thriller.
Movie:Tournament
Director:Lal
Music:Deepak Dev
Cast:
Praveen, Fahadh, John, Manu, Roopa Manjari