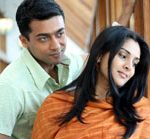 Starring: Suriya, Simran, Sameera Reddy, Divya
Direction: Gautham Menon
Music: Harris Jayaraj
Production: Aascar Ravichandran
Gautam Vasudev Menon's Vaaranam Ayiram is intended to be a biography of an ordinary man. What could have been a subtly told story turns into a sloppy fare with way too much of daddy-glorification and emotional I-love-you-and-I-see-you-in-everything-dialogues. However, this memoirs-of-my-dad would have been a wonderful watch if it did not adopt a schmaltzy narrative often, more often than you think actually, interrupted with songs.
Gautam has derived inspiration for Vaaranam Ayiram from his own life and hence the movie is by and large close to real life with only very few scenes seeming out of place. Like the middle-class Surya, whose dad struggles to keep up with his family's expenses, flies down to the USA in search of his love-at-first-sight Sameera – now that is far fetched. However, as clichéd as his love might seem, his sufferings sound more genuine – a feeling that the 'Anjale' song only upsurges.
The movie opens with an older version of Surya, suffering from throat cancer, succumbing to his disease. With the bare minimum background score and subdued acting, the scene helps to mound the expectations for a few minutes. The news then is conveyed to the son, played by Surya again, who is on a defense operation somewhere in Kashmir. The rest of the movie is the son's reminiscences of his father – the son's role overriding the father's in the process, however.
The first half of the movie drifts away with nothing significant in the offing. In less than half-hour, it breaks into two songs. Surya (dad/son) falls in love twice and loses the love of his life. The second half, however, spruces up with the kidnap episode and the journalist rescue operation.
Vaaranam Aayiram is an out and out Surya show. When the man disrobes his tee to flaunt his rippling muscles acquired after hard slog, the ladies scream their lungs out. His subtle expressions after losing out his dad to cancer score as good as his screams and emotional turbulence after losing his girl. Surya Senior's makeup screams for attention, though.
Simran comes a close second with her puffed eyes and refined articulation of emotions announcing that she is ageing gracefully. Sameera has a constant grin, which is adorable. But all she could come up with after seeing her stalker at her doorsteps in the US is a surprised expression after getting a scoop of her favorite ice cream unexpectedly. Surya – Sameera's first meet in the train is well conceived and executed. Divya, however, is in her quietest form oozing loads of sophisticated attitude.
There are touching and heart-warming moments in the movie; however, they are few and far between. Like the scene in which the cancer patient dad expresses his helplessness in telling stories to his grandson since his vocal chords no longer support him and Simran's emotional silent outburst when she is being told that her husband is about to start his final procession to the burial ground.
Harris' music complements Thamarai's lyrics with almost all songs, albeit termed as interruptions, hummable. And as Sudha Raghunathan breaks into the Anal Mele song in her unconventionally mellifluous voice, the movie's sluggish pace is curtailed. Adiye Kolluthe, partly rendered by Shruti Hassan, seems to mark the beginning of Tamil punk-rock.
The three hour long movie advocates non-smoking heavily and hits the smokers hard with the harsh reality of its consequences – cancer, for instance.