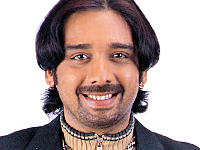 Actor Vineeth is all set to be in the role of a Hijada. His second Hindi movie titled as 'Queens Destiny of Dance' will feature him as a hijada. The movie will have one of the best roles for the actor who had earlier performed in many meaty roles in the south cinema. The movie will also have Seema Biswas in a pivotal role while Archana Guptha will be the heroine. The movie directed by David Askins is almost complete with its shoot at Jaipur and Mumbai.
Vineeth had earlier debuted in Hindi with the Priyan movie 'Bhool Bhulaiyya' in which he played the role of Ramanathan of its original 'Manichithrathaazhu'.
Vineeth still has got a number of completed movies in Malayalam including 'Kaalchilamabu' and 'Ideal couple' which will get into theatres by the coming months.