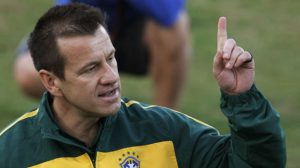 Former World Cup-winning captain Dunga is favored to serve for the second time as national coach and will be named as Luiz Felipe Scolari`s successor on Tuesday, Globo reported.
The Brazilian Football Confederation (CBF) had planed to announce the new leader last week but instead unwrapped a new technical commission headed by former reserve goalkeeper Gilmar.
After early speculation that the CBF would turn to currently clubless former Corinthians boss Tite, Brazilian media over the weekend said the body would in fact turn to Dunga, sacked after the 2010 World Cup.
Globo reported Dunga would likely choose Jorginho, who like him and Gilmar was in the World Cup-winning USA 1994 squad, as his right-hand man.
The Brazilian media conglomerate added that Dunga, 50, had been mulling a big-money offer from Venezuela as the team chases a first World Cup qualification for Russia 2018.
Upon learning the Brazil job was once again in the offing, Dunga decided to focus on that rather than chase a reported $5 million Venezuelan bonus in the event of finals qualification, according to Globo.
The former Fiorentina and Stuttgart midfielder replaced 1994 coach Carlos Alberto Parreira, who gave way to Gilmar last week as techical coordinator, in the top job after the 2006 World Cup.
He then led Brazil to Copa America success in 2007 and the 2009 Confederations Cup.
But the CBF wielded the axe after Dunga`s Brazil side, seen by many fans as over-cautious, lost their 2010 World Cup quarter-final to Holland.
After their 2014 World Cup semi-final humiliation on home soil at the hands of champions Germany, Brazil are now seeking to overhaul their domestic game as well as their five-times world champions national side.
But attempts at very incremental reform in recent years have foundered.
Since Dunga was fired, Mano Menezes has likewise been tried and found wanting while Scolari has come back and proved unable to repeat his 2002 World Cup success — though he did lead Brazil to last year`s Confederations Cup.
Dunga is now seemingly poised to follow Parreira and Scolari in having a second bite at the Selecao cherry.
In his first spell at the helm, he oversaw 42 wins in 60 games for 12 draws and six losses.
Striker Hulk said he hoped Brazil would stick with a Brazilian coach, while praising Scolari.
"`Felipao` made history with the Selecao. He won a World Cup, a Confederations Cup. But sadly, he couldn`t win a sixth title," the Russian-based forward said.
"I hope his replacement is Brazilian. I see Germany, who won the title, Italy, Argentina, Brazil always had one of their own in charge. I hope that remains so with us."
Brazil`s next game is a September 5 friendly in Miami against Colombia, whom they eliminated at the World Cup.