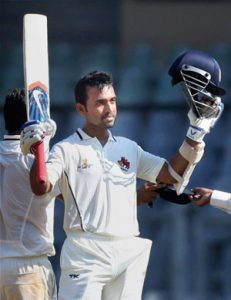 India will take sustenance from the fact that they have stared down a sinister Lord's greentop and pronounced that they are a long way removed from the submissive outfit that lost 4-0 on their last tour to England. That they scrapped throughout was undeniable, but the dominant innings that finally rewarded a day of hard labours was not as much a stare-down as a display of dancing eyes and neat footwork, an exceptional counter-attacking hundred from Ajinkya Rahane that washed residual ill feeling from an engrossing opening to the second Test.
Rahane's 103 came to grief 15 minutes before the close, courtesy of a nonchalant left-handed catch in his follow-through by James Anderson, an over in which Rahane had driven him confidently through the covers for his second Test hundred. No matter how fulfilling his career, he will not make too many better.
It felt like an appropriate end to a classically-paced innings, which was necessarily cautious as India, despite their best efforts, lost seven wickets for 145, but which then spread into a joyous second 50 at a run a ball as England's pace quartet failed to make use of ideal fast-bowling conditions. Stuart Broad's shake of the head and kick at the ball as India's last pair saw out the day was an apt summation of England's mood.
This was a most uncommon Lord's day. The groundsman, Mick Hunt, unveiled one of the greenest Test pitches the famous old ground had ever witnessed, certainly since the invention of motor mowers, and loud boos broke out when Ravindra Jadeja walked out to the crease, a response to India's insistence that Anderson's alleged altercation with him in the first Test at Trent Bridge should be formally judged by the ICC.
All it needed to complete such rare impropriety was an MCC member, his bacon-and-egg blazer frying in the heat, to strip off to the waist in the Long Room in the manner of Gary Ballance in a Nottingham night club and St John's Wood would have never seemed the same again. Fortunately, the members held their nerve. More than the England attack did. They managed one good session out of three.
For Anderson, the leader of the attack, and a man under siege, Lord's was designed as if to order. Cook had remarked: "He will be desperate just to let his cricket do the talking." India would have observed that there is a first time for everything, but as well as a zip in the pitch there seemed to be a zip on Anderson's mouth and, as he bowled with craft to return 4 for 55, his habitual sledging, as far as could be ascertained, was absent. Rahane played him beautifully, collecting 33 of those runs including a six over long-on.
Variously regarded as sledging devil incarnate or a victim of supreme over-reaction, depending on your point of view, Anderson has trudged wearily across unresponsive England Test pitches for the past year. Now, as he braced himself for an impending ICC investigation which could drag on for the entire summer if the ECB's legal team get their way, he finally had conditions to relish.
At a time of greatest need, records fell his way. He removed Shikhar Dhawan at third slip with his 11th delivery to outdo Fred Trueman as England's leading wicket-taker in home Tests. In his third over of the afternoon, he summoned away movement to add Virat Kohli, the most prized wicket of all, to a regulation keeper's catch: Ian Botham duly fell as the leading wicket-taker in Lord's Tests. His dismissal of Rahane had no record attached, but in cricketing terms it was the most heartfelt. That he has served England admirably was again beyond question.
Ben Stokes almost matched him. His natural length is shorter than these conditions demanded, but he strove to adjust, maintained speeds just short of 90mph and bowled some of the best balls of the day. Broad was below par, but the main under performer was Liam Plunkett, who was well down on pace, huffing and puffing in the heat, England's visits to a health farm – mud baths a speciality – not disguising the draining effects of back-to-back Tests.
To lose both openers by the lunch interval was damage that India would privately have accepted as the ball swung with the enthusiasm of a young puppy. There was not just swing but seam to contend with. But if the pitch was green, India's batsmen were not, more tutored these days perhaps, attitudes hardened by the jowly old sea dog, Duncan Fletcher, and technical advice from Rahul Dravid.
Ballance had awoken to celebrity headlines of "Boozy Ballance" after a photograph of his wind-down following the Trent Bridge Test had been daubed across the papers. His official ticking off had been a token one, to placate the media. Stationed at third slip, he held his catches rather better than his drink. Dhawan fell to Anderson's lavish movement, playing perfectly respectably at a ball that pitched outside leg stump. M Vijay got a leading edge against Plunkett which would have left Ballance briefly unsighted as he tried to turn the ball into the leg side.
On an unsatisfying morning, England had cause to regret two missed chances by Matt Prior, who has not been short of cumbersome moments this summer. Vijay escaped before scoring when Prior moved leadenly for a low catch in front of first slip and Kohli should have been taken off the last of the session when Moeen Ali, bowling the traditional spinner's final over before lunch, saw a straightforward catch put down.
It was a scorching day, with more to come on the morrow. Alastair Cook won the toss, gulped and chose to bowl. It was the right call, however frustrated he would have been at the close. The day suited English traditions: swing for those who knew how to use it and a pitch with enough seam and carry to create interest, the sort of pitch that has kept Test cricket in the hearts and minds of the English public. That should never be betrayed.
It was six overs before Anderson conceded a run, but when his last ball was nonchalantly flicked to the long leg boundary by Cheteshwar Pujara, it was the first sign that India had the capacity to survive. Pujara stuck it out gamely, three hours in making 28, finally studding off side and leg side in turn with two stylish boundaries, only for Stokes to shake his middle stump with one which came back up the slope. He was one of four India wickets to go between lunch and tea, comfortably England's most impressive session as they finally hit greentop lengths.
Jadeja made 3. With the crowd yearning for Anderson to return to the attack – he had bowled 12 overs but a quick foray would have done no harm – instead Cook chose decorum, continued with the spin of Moeen, and Jadeja thrust his front pad at the ball in old-fashioned manner to fall lbw.
There was a milestone, too, not just for Anderson, but for Broad, who made MS Dhoni his 250th Test wicket. Dhoni's innings was India's most unconvincing, a few exploratory strolls down the wicket and, with only 1 to his name, a furtive edge to the keeper. It begged the question whether he can bat at No. 6 in such exacting conditions.
After tea, England were seen off by Rahane. He played the ball late, coped with the seam and bounce like he will tell you a Mumbai batsman should, and then let his instincts flourish. Plunkett's resorting to a short, round-the-wicket attack – an understandable if somewhat two-dimensional tactic on featherbeds – looked a desperate ploy. That was England's low spot of the day.
England, at one stage, would never have envisaged taking the second new ball. But they grabbed it with apprehension at 223 for 7. Bhuvneshwar Kumar's solid support in an eighth-wicket stand of 90 in 24 overs ended when his stumps were spread-eagled in Broad's first over, but by the time Rahane fell to Anderson, 20 balls from the close, India felt the more contented of the sides. England will hope to see the pitch become more straw-coloured under a hot sun and for the seam and swing they have pined for to disappear conveniently for a day or two.