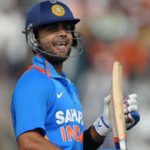 India started their ODI series on a great note against New Zealand. Virat Kohli and Ravichandran Ashwin were, for me, the stand-outs. Virat is really talented. Not only with the bat, he turned it around with his fielding as well. He now looks a supremely confident player. But there is more needed from him. I have long been saying that a batsman is a complete only when he proves himself in Test cricket.
Virat has the same challenge ahead of him. His performances in ODIs have been really good, but now time has come for graduation. To be a Sachin Tendukar, a Rahul Dravid, a VVS Laxman is what counts and Virat must have that in his mind all the time. If he works hard on all aspects of his game, he can be a future captain for India, I have no doubt about that. He seems to have all the makings of a leader.
Aswin is pretty new to international cricket but he has made his mark in such a short time. What I like about like about him is his cool approach in tense situations. As a bowler he has a lot of variety. I see him doing well in the time to come.
Moving to Pakistan, they really surprised everyone in the Test series against South Africa. Who would have thought they will be able to hold off South Africa in two Test matches? Misbah-ul-Haq should be given a lot of credit for the revival. He is a seasoned guy and if the selectors keep faith in him and give him some time to settle he will make an excellent skipper.
Although the UAE pitches were dead as a dodo, I am not taking any credit away from the Pakistani team. After what they went through during the tour of England, a drawn series against South Africa was just what they needed. Younis Khan also justified his return by saving Pakistan on a couple of occasions. Tanvir Ahmed also caught the eye with his six wickets on debut but we need to see more of him before reaching any conclusion about him.
How can I forget the Ashes! What England have done is fairy-tale stuff. Who would have thought they will be able to save the match after Peter Siddle's brilliant bowling in the first innings? I do not remember England doing so well when the chips were down.
Alastair Cook's double ton in the second innings has set the tone for the series. Prior to the series opener at Brisbane, I had backed the Three Lions to win the series and after their performance at Gabba I am sure it's going to be theirs.
Amidst kudos for England, one must not forget Siddle, who, I thought, was brilliant in the first innings, picking up 6 six wickets. Siddle is still miles away from being another Glenn McGrath. Whatever may come to pass in the remaining 4 Tests, it is certain, the series is going to be a humdinger.