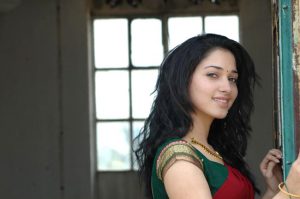 Looks like everyone wants a slice of Tamannaah these days. She has done a lot for a girl in her early twenties having garnered fame in both Tamil and Telugu.
She's been living out of her suitcases for the last two years. Travelling to Hyderabad, Europe, Mumbai, Chennai, Delhi and Madurai.
Her choc-a-bloc schedule could give the prime minister a complex. And when she gets that one day off, it's an unending stream of story sessions, ad shoots and ribbon cuttings.
Is it a punishing life style? She quickly says: "Actually, I am enjoying every bit of it. Today, in spite of being my birthday, I am on the sets of Hari sir's Vengai with Dhanush. My parents and brother have flown down with me last night to Karaikudi. Yesterday I prayed with them at Tirupati temple"
It was a sort of thanksgiving for the actress who confesses that this Tirupati trip was long overdue .
She adds: "Trust me, I didn't have time to take a day's off to visit Tirupati. Now I am relieved and happy that I got a fantastic darshan".
So what is your birthday gift? She smiles: "I will have to disappoint you on this, as it's not a jewellery set or car that my parents brought me, but them being with me is my biggest birthday gift".
Well, there's no stopping the shiny, happy young girl.